You are here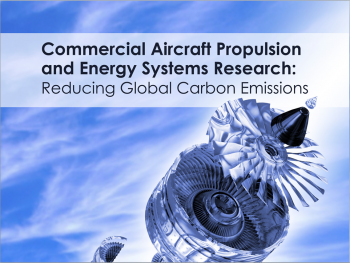 Graphic courtesy of the National Academies of Sciences, Engineering, and Medicine.
The National Academies of Sciences, Engineering, and Medicine organized a committee to develop an approach for decreasing CO2 emissions from commercial aviation. Approximately 2.5% of global CO2 emissions per year are from aviation. While that is lower than other transportation and industry emissions, it is critical to address commercial aircraft CO2 emissions due to the growth of commercial air travel, the amount of time it takes to develop the technology that will impact the aviation industry, and, ultimately, the continued global impact of CO2 emissions.
The report Commercial Aircraft Propulsion and Energy Systems Research: Reducing Global Carbon Emissions focuses on large (single- and twin-aisle) planes that transport more than 100 people. These aircraft account for more than 90% of greenhouse gas emissions from all commercial aircraft. For this research, the committee identified 12 high-priority projects and divided them into four topics focused on propulsion and energy system technologies. The four topics are: (1) advances in aircraft-propulsion integration, (2) improvements in gas turbine engines, (3) development of turboelectric propulsion systems, and (4) advances in sustainable alternative jet fuels. 
The committee, comprised of leading experts—including the Energy Department's Bioenergy Technologies Office's Zia Haq—recommended that researchers should focus on these four high-priority approaches in order to reduce CO2 emissions and be able to implement the projects within 10–30 years. Improvements in gas turbine engines research are needed to increase gas turbine engine efficiency by as much as 30% compared to current engines and therefore reduce CO2 emissions. Developments in turboelectric propulsion systems research are achievable for single-aisle aircraft in the 10–30-year time frame, and these planes will have the capacity to reduce fuel burn by approximately 20% compared to current commercial planes. Sustainable alternative jet fuels can substantially decrease life-cycle CO2 emission. The committee felt that it is essential to develop drop-in fuels since they can be used immediately to have a material impact on global aviation greenhouse gas emissions. Sustainable alternative jet fuels could also reduce other harmful emissions, such as sulfur oxides and particulate matter, compared to conventional jet fuel.  The committee felt that sustainable alternative jet fuel could also be pursued in parallel with the other approaches to achieve synergistic greenhouse gas emission reductions.
There are challenges—systemic, policy, technical, and economic—to reducing CO2 emissions in commercial aircraft, but according to this report, research can move forward with the right amount of resources, leadership, and commitment, and the coordination and cooperation of Federal agencies and private organizations. Research needs to continue on all four approaches to address CO2 emissions caused by the global growth of the aviation industry.
To read the full report, please visit the National Academies Press.