High School Students Create Biofuel from Food Processing Waste with Help from PNNL
One cannot appreciate how food processing wastes become biofuels just by reading about it in a book.
Students in science teacher Melanie Bachart's high school bioethics course at Chiawana High School, Pasco, Washington, got the full experience of producing carbon-neutral biogas from food waste that usually winds up in landfills. Biogas can be used in place of natural gas to power electrical generators or to provide heat for industrial processes. It can also be used to power cars and trucks that are equipped to run on compressed natural gas.
It was a tactile, memorable experience for the students. Their adjunct instructors for the project were Pacific Northwest National Laboratory (PNNL) researchers, representing PNNL's Science, Technology, Engineering, and Math (STEM) program.
"This project did exactly what I hoped for our students," Bachart said. "It engaged them in a real solution to a current world problem and provided an opportunity to evaluate and critique the applications of the solution."
A PNNL STEM Production
PNNL scientists Jim Collett and Erica Bakker assembled a three-week "Wet Organic Waste Energy Recovery" curriculum in collaboration with the PNNL Office of STEM Education and Melanie Bachart to ensure classroom protocols were met and learning objectives were addressed for the class. The program included a classroom syllabus, printed materials, activity guides, classroom experiment kits, and presentations from guest speakers.
"It was a privilege to work with such bright young people and show them our work in renewable energy at PNNL," said Collett. "It was super fun."
Each student lab group was given three experimental kits. They filled one with tofu processing waste from Impact Bioenergy's Vashon Bioenergy Farm, which is co-located with a tofu factory on Vashon Island, Washington, and another with vinegar to stimulate a byproduct from PNNL's novel hydrothermal liquefaction process. A third contained a food item of their choice.
"We had everything from Cheetos to burritos," Bachart said.
The digester kits were activated by adding microbial broth from Impact Bioenergy's 37,000-gallon digester system on Vashon Island. Data on biogas generation from each of the kits were uploaded and analyzed by the students using the Bioenergy Data Hub LabKey Server that is hosted by PNNL with support from the Department of Energy's (DOE) Bioenergy Technologies Office (BETO).
"The project was a hit with the students for a variety of reasons," said Bachart. "Some were very much into the data collection, a student named Thomas, in particular. He really became my point person for helping people use the data tools."
Diversifying the Future STEM Workforce
In support of DOE's goals to help develop the future, a diverse workforce for STEM professionals, educational opportunities like these are critical. For this class project, 58% of the students were from historically underrepresented groups in STEM, and 45% of the students were female. It's community engagement like this that is designed to spark interest and excitement in the next generation of STEM professionals.
"PNNL is a world leader in researching the creation of renewable energy from waste sources and transferring that technology to the marketplace," Collett said. "We will need future researchers to continue our work. It would be great if one—or who knows how many? — of those researchers landed at PNNL from right in our backyard."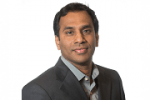 Dr. Karthikeyan K. Ramasamy
Dr. Karthikeyan K. Ramasamy is a Chief Chemical Engineer at Pacific Northwest National Laboratory (PNNL). His current research work is focused on developing heterogeneous catalysts toward producing renewable chemicals, marine fuels, and sustainable aviation fuels. He serves as the Laboratory Relationship Manager for the U.S. Department of Energy Bioenergy Technologies Office, which has oversight of research in the sustainable use of marine, terrestrial, and waste biomass for fuels and chemicals via thermal, biological, and electrocatalytic conversion.
more by this author