Author: Josh Messner, Technology Manager, Systems Development & Integration
BIOPROSE BLOG
The U.S. Department of Energy (DOE's) Bioenergy Technologies Office (BETO) works to support the development of commercially viable, high-performance biofuels, bioproducts, and biopower made from renewable U.S. biomass resources. The BETO team is focused on lowering the risk of bioenergy production technologies through verified proof of performance at various process scales.
In 2014, a joint venture between POET, LLC, the world's largest producer of biofuels, and Royal DSM, the multinational sustainable living company, developed the nation's first corn stover-fed advanced biofuels biorefinery with cost-funding support from BETO. The POET-DSM partnership launched Project LIBERTY in Emmetsburg, Iowa, to design, build, test, and operate a commercial-scale cellulosic ethanol biorefinery to produce a sustainable biofuel with low carbon intensity. 
From Biofuels to Hand Sanitizer
As COVID-19 spread around the world in early 2020, it created unprecedented demand for sanitation and cleaning products. POET-DSM recognized the growing market need for industrial grade ethanol, a fundamental component of these products. POET was in a unique position to fill this need with their first-generation, grain-based fuel ethanol refineries.
On August 3, 2020 POET, LLC announced:
"[I]ts commitment to scale up production of industrial and beverage-grade alcohol at two biorefineries. This will help meet growing demand due to market changes from COVID-19 while creating a new domestic market to boost the ag economy. Industrial alcohol is a fundamental component of products such as cleaning supplies and hand sanitizer. POET is making significant investments to enhance operations at its biorefinery in Leipsic, OH, and is in the design phase for modification of a second industrial-grade plant in Alexandria, IN that will come online in early 2021.
POET expedited efforts to produce pharmaceutical-grade, alcohol-based hand sanitizer after COVID-19 created an unprecedented spike in demand for sanitation and cleaning products."
Royal DSM also began producing hand sanitizer in several of its manufacturing sites, donating thousands of gallons to nearby healthcare facilities.
Project LIBERTY combats COVID-19
POET-DSM saw an opportunity to utilize the Project LIBERTY facility to produce the pharmaceutical-grade ethanol ingredient necessary for hand sanitizer. BETO recognized the urgency to address the COVID-19-related demand for ethanol-based hand sanitizer and supported POET-DSM's request to shift the facility's use.
While Project LIBERTY's change of use is temporary and represents only a small part of the U.S. ethanol supply, the facility is providing a much needed boost in pharmaceutical-grade alcohol, allowing for safer reopening plans across the country and assisting families and the economy.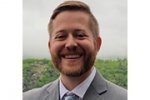 Josh Messner
Mr. Josh Messner is a technology manager with the Bioenergy Technologies Office (BETO) at the U.S. Department of Energy (DOE) and holds a Project Management Professional certification. Working out of the Golden Field Office located in Golden, CO, Josh is responsible for a number of projects within BETO's Systems Development & Integration (formerly the Advanced Development & Optimization) Program.
more by this author