You are here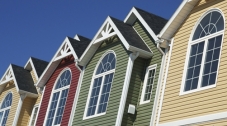 Eligible Better Buildings Residential Network members reported completing 27,563 home energy upgrades during 2013 as part of the Residential Network's first reporting cycle. In addition, 13 Better Buildings Neighborhood Program partners completed 12,166 home energy upgrades, and six Home Performance with ENERGY STAR
®
Sponsors completed 2,540 home energy upgrades, which are separated out to avoid double counting with those programs. In total, 42,269 households were improved by 47 eligible Residential Network member organizations during 2013. Members that joined after the reporting collection period will be counted in next year's reporting. Residential Network member upgrades were reported as part of the Residential Network's first annual call for upgrades and benefits, which occurred this summer.
In addition to home energy upgrades, Network members reported a variety of other benefits. Reported benefits varied among members. The Southeast Energy Efficiency Alliance reported estimated annual electricity savings of more than 5 million kilowatt-hours; estimated natural gas savings of 71,580 British therms; and $653,245 estimated annual cost savings. In New York, PUSH (People United for Sustainable Housing) Buffalo reported completing more than 200 home energy upgrades.
Other milestones reached by the Residential Network included:
Welcoming 142 members as of September 30, 2014. This number includes 52 Georgetown University Energy Prize participants that joined the Residential Network in 2014.
Holding 52 Peer Exchange Calls for nearly 1,000 participants who shared experiences and helped one another address challenges and consider new approaches across numerous leading-edge topic areas.
Signing up more than 100 users to the Better Buildings Residential Network Group on the Home Energy Pros website.
Producing a Partnerships Toolkit, as a result of the Residential Network's first Voluntary Initiative, which includes resources to help energy efficiency organizations engage in partnerships that leverage resources and strengthen their programs.
Launching a new website, which received 1,500 visits in just over two months.