You are here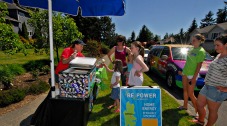 The latest in a series of
Lessons Learned: Peer Exchange Call
"greatest hits" summarizes top marketing and outreach takeaways from Better Buildings Residential Network members during spring 2015 Peer Exchange Calls:
Effective marketing of multifamily upgrades depends on whether the decision maker is a tenant or building owner. Tenants are more concerned with issues, such as reduced noise, enhanced comfort, and lower energy bills. Owners are more concerned with enhanced marketability of a unit (e.g., the aesthetics of installing new window treatments).
Stand-alone outreach events, such as workshops, can have difficulty attracting people to a venue just for that event. Instead, focus on leveraging pre-existing events and community groups to educate people.
The Residential Network hosts a series of Peer Exchange Calls for home performance professionals to discuss similar needs and challenges and to collectively identify effective strategies and useful resources.
Read the full document for more greatest hits from marketing and outreach Peer Exchange Calls.