You are here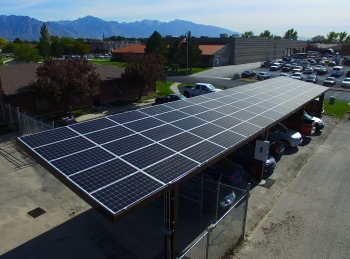 This solar energy system was installed at Hunt Electric, the first company in Utah to take advantage of C-PACE financing.
Cost-effectiveness is often the top consideration for states weighing the options to spur energy efficiency and renewable energy improvements. The Energy Department has taken steps to make it easier for homeowners and businesses to realize the benefits of investing in more efficient, affordable properties through innovative residential clean energy financing programs.
This includes the property-assessed clean energy program (PACE). It's an innovative financing mechanism for energy efficiency and renewable energy improvements on private property. When authorized by state law, PACE programs enable state and local governments to fund the upfront cost of energy improvements on commercial and residential properties. That cost is then paid back over time by the property owners.
From 2011 to 2014, the Energy Department's State Energy Program invested $1.5 million in the Utah Governor's Office of Energy Development, supporting Utah's Commercial PACE (C-PACE) program.
Utah authorized C-PACE via 2013 legislation and C-PACE financing has been available since spring 2015. Last year, Hunt Electric, an electric planning company, became the first business in the state to use C-PACE. It upgraded its West Valley City headquarters with a 23-kilowatt solar canopy, a microgrid, and an electric vehicle charging station. The upgrades, totaling $100,500, will be repaid in full by Hunt Electric over a 20-year term. The solar canopy began operating at the end of last year, and had its best month yet in May of 2016, producing more than 4,000 kilowatt-hours of power.
The Energy Department's investments in Utah have catalyzed other recent successes in energy efficiency and renewable energy development. In 2014, the state worked with the National Energy Foundation to develop a Water Energy in Action educational program to teach K-12 students and teachers about the history of water, the water cycle, water treatment, water efficiency, water quality, and the water and energy nexus.  
The Energy Department has a published a detailed guide to C-PACE. Also, the National Conference on State Legislatures provides a map indicating states that have authorized and/or implemented C-PACE as of January 2016.
The Energy Department's State Energy Program provides funding and technical assistance to energy offices in states and U.S. territories to advance local clean energy priorities while contributing to national energy goals. Learn how the State Energy Program is making a difference in other states: http://energy.gov/eere/wipo/listings/state-energy-program-success-stories