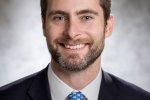 Alejandro Moreno
Alejandro Moreno is the Principal Deputy Assistant Secretary and Deputy Assistant Secretary for Renewable Power in the Office of Energy Efficiency and Renewable Energy (EERE).
more by this author
Last week, I traveled to Ohio State University for a pair of events that highlighted the intersecting nature of clean, efficient-energy technologies. First, I was honored to join staff from the U.S. Department of Energy (DOE) Building Technologies Office, Lawrence Berkley National Laboratory, and representatives from several of our public and private-sector collaborators at a kick-off event for our inaugural Connected Communities cohort. Next, I took a ride across campus in an EcoCAR to join a remarkable group of students and faculty who have been plying their engineering skills to improve the efficiency and reliability of the latest generation of electric vehicles.  
Last year, DOE awarded $61 million to 10 pilot projects that will deploy new technologies to transform more than 7,000 homes and workplaces into state-of-the-art, energy-efficient buildings. These "Connected Communities" can interact with the electrical grid to optimize their energy consumption, decrease their carbon emissions, and cut energy costs.  
Our goal, in short, is to establish a new model for buildings. These Connected Communities will consist of buildings that operate at least 30% more efficiently than the current industry standard, and at the same time provide energy and critical flexibility back to the grid. To achieve this, they'll incorporate a range of technologies that have been the focus of DOE investment for many years, including photovoltaic solar power, electric vehicles, stationary-thermal and electric energy storage, charging infrastructure, and grid-interactive control systems. 
If we succeed in demonstrating the merits of these technologies at the community scale, every American will reap the benefits. A recent DOE study estimated that by 2030, grid-interactive efficient buildings could save up to $18 billion per year in power-system costs and cut 80 million tons of carbon emissions annually. That means cleaner air, cheaper energy, and a substantially reduced domestic carbon footprint. It was a joy to spend some time with the funding recipients who will help us realize the promise of this vital project. 
My next event brought one of the technologies that will help our Connected Communities thrive into sharper focus. The transportation sector accounts for the lion's share of domestic carbon emissions, and the widespread adoption of electric vehicles is the surest way to address the problem. EcoCAR is the latest in a series of DOE-sponsored advanced vehicle technology competitions—a 34-year-old tradition that has seeded academia, government, and industry with talented automotive engineers.  
In the latest iteration of the competition, which is managed by Argonne National Laboratory, a team of students and faculty from Ohio State and Wilberforce University will engineer a next-generation battery electric vehicle that uses automation and vehicle-to-everything (V2X) connectivity to implement energy-efficient and customer-friendly features—all with an eye on decarbonization. General Motors has provided each team with a 2023 Cadillac LYRIQ, which will serve as a testbed for demonstrations of advanced propulsion systems, connected and automated vehicle technologies, and other innovations. The Ohio State/Wilberforce team is, crucially, one of two in the current EcoCAR competition that feature participants from a historically black university—part of EERE's ongoing support for increased diversity in science, technology, engineering, and mathematics. Given that this group will devote so much time and energy to this worthy project over the next four years, I stopped by to express my appreciation. 
As always, I was struck by the enthusiasm and vigor of the young students who have agreed to apply the skills they learned in the classroom to a very real—and very urgent—engineering challenge. They are, after all, part of the generation that will receive our midcentury report card. The EcoCAR challenge is tremendous preparation for a career in automotive design and, as today's students enter the workforce, the responsibility of leading the clean energy transition.  
This trip was a reminder of the sheer complexity of the clean-energy transition. On the same campus, on the same day, two groups of people came together to discuss two distinct aspects of this undertaking—neither of which can truly succeed if the other fails. I was also reminded that each of us plays a role, great or small, in shaping the future of the American energy system. It's a comfort to know that people like those I met in Ohio are working every day, in every pocket of the country, to make that future as bright as it can be.