You are here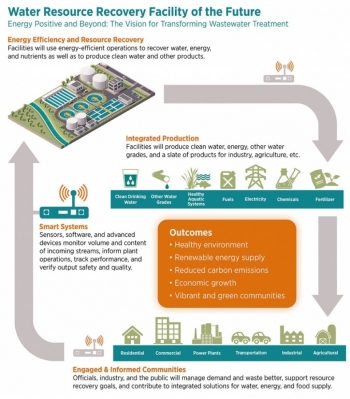 Many people do not think about it, but household wastewater from your sinks, toilets, showers, and washing machines contains valuable resources that could be recovered for beneficial reuse. In fact, domestic wastewater remnants contain carbon-rich organic matter that can be used to produce fuel and electricity, and nutrients, such as nitrogen and phosphorous, that can be recycled as fertilizers.
Unfortunately, the American Society of Civil Engineers Infrastructure Report Card gives the wastewater infrastructure in America a D-grade, and says "capital investment needs for the nation's wastewater and stormwater systems are estimated to total $298 billion over the next twenty years." According to the U.S. Environmental Protection Agency (EPA), about $600 billion will be required over the next 20 years to continue reliably transporting and treating wastewater. It is clear, the current U.S. water infrastructure is nearing the end of its expected service life. Rather than maintain the status quo, aging infrastructure could be replaced by a new generation of wastewater recovery facilities equipped with new technologies that would not only provide clean water, but would also recover resources nutrients to create energy. These facilities would reduce operating costs and could potentially provide power to the surrounding community.
To chart the path forward from vision to reality, four offices from the Department of Energy (DOE) collaborated last year with the National Science Foundation (NSF) and the EPA to explore a smarter future for water treatment. The Bioenergy Technologies Office (BETO), the Fuel Cell Technologies Office (FCTO), and the Advanced Manufacturing Office are all working to advance technologies for energy and water systems. For example, the BETO is exploring methods to produce biofuel from the organic material in wastewater and from the methane ("biogas") that is emitted from landfills. The FCTO is also focused on utilizing biowaste as an energy feedstock, both for traditional fuel cells, using biogas to produce heat, power and hydrogen, and in microbial fuel cell-based technologies that can produce power or hydrogen while cleaning wastewater.
FCTO and its partners demonstrated the world's first fuel cell system at the Orange County waste water treatment plant, where sewage waste was used to co-produce power, heat and hydrogen at a refueling station. The Office of Energy Policy and Systems Analysis is exploring new policy and finance approaches to encourage investment in energy-efficient water infrastructure and enable water utilities to offer energy services to electric utilities. All of the relevant DOE offices are participants in the DOE's Water Energy Tech Team (WETT), which uses data from both water and energy, to perform modeling and analysis and create policy priorities for the Department. 
Water and energy are interrelated and both vital to our standard of living. With these waste resource recovery facilities of the future, the United States can transition to wastewater management systems that can continue to ensure we have clean water, while also using processes and technologies that recover resources, improve energy efficiency, and provide added benefits to communities.