You are here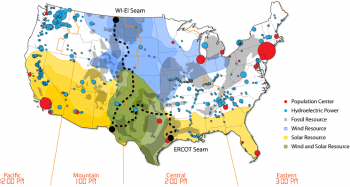 Conceptual representation of the three major seams in the United States. Current seams limit the value of diverse natural resources across various regions.
When you think of the nation's electric grid, you may picture a single, seamless entity stretching across the country.
But in reality, our grid has emerged over time and is actually divided into multiple regions. As demand for reliable power has grown over the years, different parts of the country have tapped into their unique energy potential.
The central United States, in particular, has been a major source of American power since the 1950s. More recently, there have been substantial increases in renewable energy capacity with the development of wind and solar resources in the central plains and desert southwest.
But we may not be taking full advantage of these resources, due to the seam that separates our power systems.
Breaking Down the Grid
Three primary electricity interconnections link the power infrastructure of the United States:
The Eastern Interconnection – spans east of the Rocky Mountains and a portion of Texas
The Western Interconnection – covers areas west of the Rockies
The Electric Reliability Council of Texas – powers nearly all of the state.
For the most part, each of these grids operate independently of each other with limited transfers of power between them. This leaves utility executives, entrepreneurs, and local leaders with a dilemma. On one hand, power system planners are able to act locally and focus on their individual footprints to meet system demands. On the other, systems planners see an opportunity to connect these resources to drive down electricity costs that lead to economic growth.
Connecting the Interconnections
For years, a number of experts have discussed the potential to build a more unified electric grid—one in which power loads would be shared across regions. That task continues to grow in opportunity thanks to our current aging infrastructure and advancements in renewable energy.
By bringing the interconnections together, more areas of the country could tap into the potential of solar energy shared from more sunshine-abundant regions. The reliability of energy sources like wind would be greatly strengthened and the grid would be better equipped to manage power challenges stemming from extreme weather events.
In order for leaders and system operators to upgrade the current structure of the interconnections, it's crucial that they have access to comprehensive data and information on the implications for costs and reliability.
Grid Modernization Initiative
The U.S. Department of Energy (DOE) is working to meet this need through the Grid Modernization Initiative. This effort is aimed at meeting the challenges of modernizing and upgrading our electricity infrastructure to enable a more reliable, resilient, and sustainable system. DOE has committed to invest more than $220 million over three years for the national laboratories and partners to conduct critical research and development across a range of grid modernization topics.
One example is the Interconnections Seam Study, which is focuses on expanding grid flexibility by increasing the number of points connecting the Eastern and Western Interconnections. 
Researchers from the national laboratories—including the National Renewable Energy Laboratory, Pacific Northwest, Argonne, and Oak Ridge—are working with a range of partners, including Iowa State University, utilities and power operators, to study several potential scenarios for bringing together these interconnections.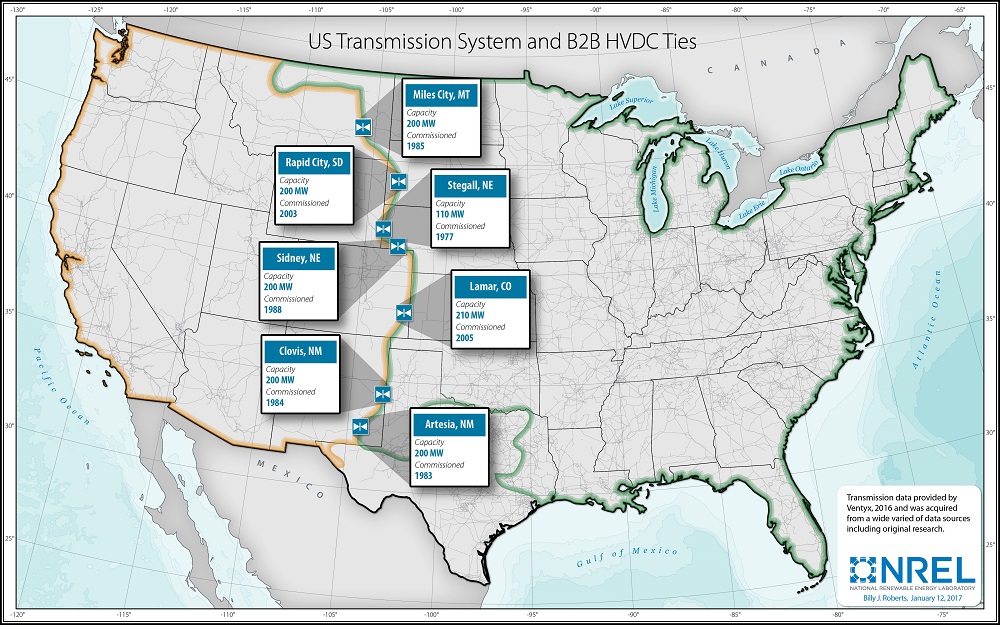 The team is developing four visions of the future of our power system. These scenarios will help leaders evaluate a range of generation and transmission options. Each scenario studies the implications of several variables, including fuel prices, the projected growth of demand in each region, and regional weather conditions. Through rigorous mapping and analysis, the team will help ensure that leaders and decision-makers can fully tackle new opportunities for modernizing our electric grid.  
Learn more about this ongoing work.
Article contribution by Aaron Bloom of the National Renewable Energy Laboratory