You are here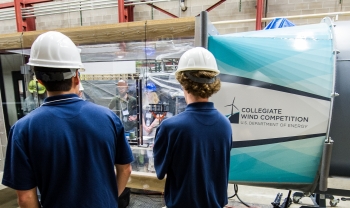 Competitors test their turbines in a wind tunnel at the Collegiate Wind Competition 2015, held at the National Renewable Energy Laboratory's National Wind Technology Center just south of Boulder, Colorado. (Photo by Dennis Schroeder / NREL)
The U.S. Department of Energy Collegiate Wind Competition 2016 starts May 24—less than a week from now—at the annual American Wind Energy Association (AWEA) WINDPOWER Conference and Exhibition in New Orleans, Louisiana. Whether you're coming from near or far, it's time to plan your visit to see this competition, which challenges undergraduate students to offer a unique solution to a complex wind energy problem and provides them with real-world experience as they prepare to enter the wind industry workforce.
Talk to the teams; see the competition wind turbines in action; or attend a ceremony. Whatever you do, you're sure to have lots of fun and be inspired by these competitors, who represent the next generation of wind-industry professionals. We look forward to seeing you soon!
Before You Go
Get familiar with the teams. Read all about the 12 student teams participating in the competition:
Understand the competition. Study the rules and learn about the industry-leading judges who will help determine the winners in four contests—business plan, technical design, deployment strategy, and turbine testing—and a separate bonus challenge.
What To Do
The Collegiate Wind Competition offers a variety of activities that demonstrate the creativity and problem-solving capabilities of these amazing students.
See wind turbines in action. Watch as teams put their turbines to the test in an onsite wind tunnel. Take a look at the schedule to find out when your favorite team will be up. 
Details: Tuesday, May 24 at the Collegiate Wind Competition and KidWind Education Pavilion in Hall E.
Attend teams' public presentations and vote on your favorites. Witness the competitors impress the judges with their wind power systems. Check out the full schedule of events. Also, be sure to follow instructions provided at the competition site to cast your vote and help determine the People's Choice Award winner. 
Details: Wednesday, May 25 at the Tech Station Theater in Hall F.
Rub shoulders with students and organizers. Join us for the Collegiate Wind Competition Industry Hour. 
Details: Wednesday, May 25, 4–5 p.m. in the Collegiate Wind Competition and KidWind Education Pavilion in Hall E at the students' booths.
Celebrate this year's winners. You're invited to the Collegiate Wind Competition Award Ceremony.
Details: Wednesday, May 25, 5–6 p.m. at the Collegiate Wind Competition and KidWind Education Pavilion in Hall E on the Main Stage.
The biannual Collegiate Wind Competition is designed to attract engineering, business, policy, social science, marketing and communications students to wind energy-related careers, provide them with practical knowledge and experience, and showcase tomorrow's promising workforce to industry leaders. Intertwining academic coursework with tangible, hands-on learning, the Collegiate Wind Competition provides valuable real-world experience as students prepare to enter the clean energy workforce. 
Learn more by visiting Generation Wind—and follow the fun on social media using the hashtag: #CWC16. Check out this Energy 101 video to find out more about how wind turbines work.