For five women at the U.S. Department of Energy (DOE) National Laboratories, inspiring girls and women to pursue STEM is an official part-time job. Amy, Mercedes, Harshini, J'Tia, and Jessica are all American Association for the Advancement of Science (AAAS) IF/THEN Ambassadors — a program that was started in 2019 to inspire the next generation of women in STEM.  
The 125 women selected for this prestigious program received specialized media and communications training, worked with a talent agency, and even had3-D model images taken of them to create statues for an IF/THEN Exhibit. 
Follow #WomenTalkSTEM and join the National Girls Collaborative Project and Million Girls Moonshot on March 18 at  3 p.m. EST for the Women in STEM: Spark a Future Twitter chat, featuring inspirational AAAS IF/THEN ambassadors sharing how their work impacts the world, challenges they overcame, and the advice they'd give their 10-year-old selves. 
Additionally, check out the IF/THEN Classroom Connection, linking women in STEM to classrooms and nonprofit programs through virtual sessions and digital contnet.
Get to Know our Ambassadors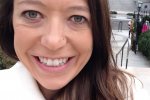 AnneMarie Horowitz
AnneMarie Horowitz has been with the Energy Department since 2010 and is a Public Affairs Specialist on the digital strategy team in the Office of Public Affairs.
more by this author