Quiz: Test Your Climate IQ
Climate change is one of the most urgent environmental challenges of our time. But how much do you know about it? Test your knowledge with this quiz!
From shrinking glaciers to rising seas, climate change is threatening our planet in unprecedented ways. This urgent challenge will come into sharp focus as the world celebrates Earth Day this Friday, April 22. While the science is clear on climate change, how much do you know about it?
Explore our climate change resources and test your knowledge with our latest quiz. Also, check out Energy.gov/EarthWeek  all week long, where we'll be highlighting stories and interactives about climate change and how clean energy technologies can help solve it.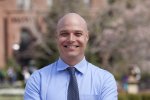 Paul Lester
Paul Lester is a Digital Content Specialist in the Office of Public Affairs. Paul was born in Ohio but spent most of his life in Florida, where he worked as news researcher/archivist and online editor for the Orlando Sentinel.
more by this author