You are here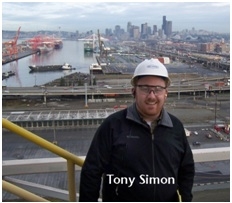 Tony Simon
Earlier this year, we told you about Matan Moram and Vitelio Silva, two alumni of their university's Industrial Assessment Centers (IAC), which are part of the Office of Energy Efficiency and Renewable Energy's Industrial Technologies Program (ITP). A program of the ITP, the Industrial Assessment Centers (IAC) provide energy, waste, and productivity assessments at no charge to small and mid-sized manufacturers while providing engineering students with hands-on training in manufacturing plants.
Now, meet Tony Simon, who is less than a year out of college -- but not pausing to catch his breath. Instead, he's continuing to challenge himself -- and finding great success -- by working at the Department of Energy's Office of Renewable Energy and Efficiency (EERE) Information Center, where he responds to technical inquiries from industrial plant staff and industrial service providers from around the country.
This kind of work isn't easy, especially for someone just stepping into a career. Tony's success at the Information Center is the result of great academic preparation sharpened by hands-on training. As an electrical engineering student at the University of Washington (UW), Tony learned to walk the talk of energy efficiency while working at the
University's Department of Energy-funded Industrial Assessment Center
(IAC).
Each of the 26 IACs around the country provide no-cost energy assessments to industrial plants, giving students like Tony the opportunity to gain field experience and develop real-world solutions to improve industrial energy efficiency. For three years, Tony was the Lead Student at the UW IAC, responsible for completing the assessments and coordinating with plant staff and management.
This position also connected Tony to the professional engineers at the EERE Information Center, where he worked as a summer intern and was hired after graduation. When asked about his favorite part of the job, Tony said, "Actually, there are two parts. The first is that I get the opportunity to solve complex problems. The second is that I get to help people and businesses save on their bottom line. But really, when it comes down to it, I'm putting my skills to work and love my job!"
Prior to his IAC experience as a UW student, Tony was no stranger to working in the real world. As an FAA-licensed aircraft maintenance technician for Kenmore Air Harbor, the largest seaplane operation in the U.S., Tony became familiar with the shop-floor operations and business management realities of a small manufacturing operation. This hands-on expertise made Tony a natural fit with the IAC when he began his engineering studies. "The IAC experience has been a great way for me to transition from one career to another," Tony said. "I've been able to hit the ground running and immediately help businesses save energy."
While still a UW student, Tony -- who seems to have engineered extra hours into his day -- leveraged his hands-on background and IAC work experience to create a high-tech start-up with an IAC colleague, Brian Pepin. Their company,
Energizing Solutions
, specializes in sensors used for the predictive monitoring of industrial motor systems. After winning both second place and a best business idea prize at the UW Business Plan Competition, Tony and Brian used their prize money to incorporate their company and recently entered into a partnership with a global industrial conglomerate to further develop their technology.
Tony's striking success is due in large part to the training and preparation he received working at an Industrial Assessment Center. Tony's trajectory highlights how the IACs provide unparalleled workforce development, growing essential "shovel-ready" energy experts to help the Department of Energy achieve its ambitious industrial energy efficiency goals.