Over 100 virtual presenters, including DOE headquarters (STEM Rising and the Office of Energy Efficiency and Renewable Energy), the National Renewable Energy Laboratory, the Pacific Northwest National Laboratory, the Los Alamos National Laboratory, Idaho National Laboratory, the National Energy Technology Laboratory, and Oak Ridge National Laboratory will be "at" the free virtual SciFest All Access event next week, running September 26 - October 3 at your computer.
"The DOE has been a great partner with us through the many years of live events, bringing energy education and inspiration to our nation's K-12 students – and we are grateful for the very innovative content that will be on display at SciFest All Access," said Bob Perrine, Director of National Partnerships at the USA Science Festival. "The USA Science & Engineering Festival is looking forward to having the DOE, and all their amazing partners, participate within SciFest All Access."
In virtual booths, the Labs and STEM Rising initiative will share videos, live Q&A with STEM professionals and community relations officials at DOE, and activity downloads to learn about STEM innovations and STEM careers.
At the STEM Rising booth, we'll be talking about our new and improved activities for you to do in your home or at school, like lifting up ice cubes using chemistry (grades 4-8), building your own boat (grades K-5), and building a pizza box solar oven (grades K-12). We'll also share links to our collegiate-level competitions that have gone virtual, like the National Collegiate Wind Competition, CyberForce Competition™, and Solar Decathlon.
There's also a STEM Scavenger Hunt at the festival, which many of our Labs are participating in, and the Los Alamos National Laboratory has partnered with the Bradbury Science Museum to create a virtual space as well as provide booth spaces for their community relations and student programs offices.
STEM careers and STEM innovation are the bread and butter of the Energy Department, and virtual opportunities like these help us share our free resources and career opportunities like internships & research positions. Hope to see you online at the Festival and answer any of your questions about our STEM efforts.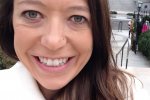 AnneMarie Horowitz
AnneMarie Horowitz has been with the Energy Department since 2009, and is the Director of STEM Rising, a priority Departmental initiative to highlight the science, technology, engineering, and mathematics (STEM) programs and resources of the agency.
more by this author