April Fool's Day can be more than whoopee cushions and corny jokes – build up your science, engineering, tech, and math skills while amazing and surprising others. This April Fool's Day, fool your friends and family into believing you're a magician with our STEM activities for students, many of which were provided by the Department's Office of Nuclear Energy.  
Guaranteed to fool your friends or your money back! Ok, no, there's no money exchanged here, but we do want you to try this and see if your eyes deceive you. Make sure not to drink any of this and to pour it out as soon as you're done with the experiment.  
Eat an Aquifer
Sprinkles, candy, soda, food coloring, ice cream, cookies, a clear cup, and a straw? Yes, this sounds like the makings of an excellent science project. Monique Warren, Environmental Engineer at Lawrence Livermore National Laboratory, walks you through how to create an example aquifer – an underground storage of water – you can actually eat. Watch this video from Monique for the details. 
Scoop Up This Energy Trick 
You can feel the changes in heat energy when molecules in rubber align themselves in different ways in this experiment.
Take a thick rubber band and stretch it out two or three times with your fingers. Next, place the rubber band next to your forehead. Follow the tips in the graphic above to discover how heat and tension change. 
Exploding Toothpaste
Chemistry, surface tension, catalysts and reaction – you get it all when you make exploding toothpaste. With a few magic ingredients, you can make a foamy "toothpaste" that shoots up in the air, using liquid dish soap, hydrogen peroxide, food coloring, safety supplies, and a few other objects. Get the details from Scientific American's website.  
See this experiment done on stage at the Fun With Science Show at our Lawrence Livermore National Laboratory on their website here. 
April Fool's!  It's not magic, it's science!  Have a happy April Fool's Day and keep learning about science, technology, engineering, and math – there's more STEM activities at www.energy.gov/STEM.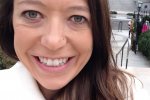 AnneMarie Horowitz
AnneMarie Horowitz has been with the Energy Department since 2009, and is the Director of STEM Rising, a priority Departmental initiative to highlight the science, technology, engineering, and mathematics (STEM) programs and resources of the agency.
more by this author