It's Women's History Month on Energy.gov. During the month of March, we're highlighting the great contributions to science, technology, engineering and mathematics or STEM fields made by women throughout history, as well as taking a look at fascinating work that women are doing in STEM fields today.
Nora Stanton Blatch Barney was the first American woman to become a civil engineer in 1905 and granddaughter of a women's rights icon.
Here are some other facts about Nora Stanton Blatch Barney you might not know:
Nora Stanton Blatch Barney is the granddaughter of Elizabeth Cady Stanton. Elizabeth Cady Stanton was a well-known figure in the women's rights movement. Both Barney and her mother, Harriot Stanton Blatch, followed in Cady Stanton's footsteps, fighting for gender equality.
She got her degree from Cornell. She was also actively engaged while at the university as the manager of the Women's Fencing Club and a member of the Kappa Kappa Gamma sorority. She also solved a key problem in hydrodynamics while researching for her thesis, "An Experimental Study of the Flow of Sand and Water in Pipes under Pressure," which probably explains her election to Sigma Xi, an honorary scientific society founded at Cornell in 1886.
She was the first woman ever admitted to the American Society of Civil Engineers. She was only allowed to be a junior member at first. When she was denied full associate membership, she took the ASCE to court. While she lost the lawsuit reinstatement in court, she was posthumously given ASCE fellow status in 2015.
She might be the first American female civil engineer, but she was born in England. Barney's mother, Cady Standon, met her father, William Henry "Harry" Blatch, Jr, on a return voyage to the U.S. after spending time as a tutor in Germany. The family lived in England for 20 years where her father was a brewery manager and her mother worked on a statistical study of rural women's working conditions in the country.
Her first husband was an inventor. Barney was married to Lee De Forest, who is best known for inventing the Audion vacuum tube that made live radio broadcasting possible and is a key component in many technologies we use today. He's often considered the "father of radio" and the "grandfather of television."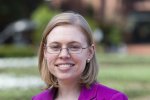 Cort Kreer
Cort Kreer is a former graphic designer at the U.S. Department of Energy.Cort Kreer is a former graphic designer at the U.S. Department of Energy.
more by this author