"If you build it, they will come" is a mantra that might be well suited for rural sporting venues, but the organizers behind the EcoCAR competition realize that in the commercial sector, merely producing a finely tuned product often isn't enough to make it successful. That's why along with challenging students to re-engineer a donated vehicle to minimize gas consumption and emissions while maintaining consumer acceptability, they've made outreach and education key components of the competition.
Whether they're speaking to policy makers or elementary school students, each of the teams have worked to convey the benefits of advanced technology vehicles in creative and engaging ways. For example, the University of Waterloo team recruited a number of influential political leaders from both the national and provincial level to speak on a panel promoting the numerous reasons why consumers and industry should embrace these innovative auto technologies – an effort that ultimately helped the team win first place for outreach for outreach.
Other teams also used the EcoCAR competition as a platform to make a direct and lasting impact in their local community. Virginia Tech has been working with the city of Blacksburg to procure and install an on campus charging station for electric vehicles, while Penn State's squad worked with the town of State College's mayor to officially proclaim April Energy Month.
In addition to bringing their message to federal and local leaders, teams have also been eager to share their knowledge with younger generations. Teams used their creative spirit to find innovative ways to engage middle school students across the US and Canada. Mississippi State University, which received second place for outreach, collaborated with the Girl Scout Heart of the South region to develop an entirely new handbook for the Scouts, which includes information and activities on advanced vehicle technologies, and provide them with a chance to earn three different badges in the "It's Your Planet – Love It!" category. The University of Waterloo team by equipping the more than 2,000 students they presented to with remote control "i-clickers" which allowed them to respond directly to questions and polls throughout the event. These tools reinforced the material and increased interactivity, helping them engage an often hard to reach age group.
Ultimately though, the teams were especially creative in their efforts to reach out directly to consumers. Penn State, which won the Spirit of Outreach award, posted Quick Response (QR) codes all overcampus with just the tagline "Drive Green. Think Green. Live Green." People who scanned these QR codes into their tablets or smart phones were directed to the team's website and iPhone application, which offered a wealth of information on the benefits of buying efficient vehicles. Other teams also found creative ways to meet go above and beyond the competition's requirements and engage their community in the EcoCar effort. Michigan Tech, located in snowy, rural Houghton, inspired people to run 3.1 miles in -6 F weather, while Ohio State University (which received 2nd in outreach) went above and beyond the requirement to produce a commercial for their vehicle by working with a local movie theater to get it aired before the trailers at every film they showed.
Just as each teams' vehicle designers have learned to solve real-world engineering problems through creative approaches, these students have learned how to reach out and speak to people on all levels, from 1st graders to Senators, in new and innovative ways. As a judge in this competition, it's been a pleasure to watch these teams grow and evolve, overcoming struggles and finding imaginative ways to convey their message. I know that their contributions to their communities will be felt long after this competition and look forward to seeing their creative spirit continue to flourish as they move onto their next chapter.
Shannon Brescher Shea is the Communications Manager for Clean Cities in the Vehicle Technologies Program for the Office of Energy Efficiency and Renewable Energy.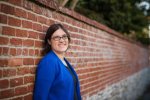 Shannon Brescher Shea
Shannon Brescher Shea (shannon.shea@science.doe.gov) is the social media manager and senior writer/editor in the Office of Science's Office of Communication and Public Affairs.
more by this author