As we enjoy the freedoms of summer, it is vital that we remember the valor of those who fought for our independence, and who are defending it to this day. We must also, as President Lincoln put it in his Second Inaugural, "care for him who shall have borne the battle."  
We have the opportunity to do so today. 
Recently, the President's Office of Science and Technology Policy issued a Request for Information (RFI) for public input on the development of a National Research Strategy for the President's Roadmap to Empower Veterans and End Suicide (PREVENTS). The RFI was in response to a Presidential Executive Order on the same subject this past March which noted, "Answering this call to action requires an aspirational, innovative, all-hands-on-deck approach to public health – not government as usual."
It requires ingenuity, capability, and resolution.
The full strengths of the federal government are being brought to bear on this challenge. But even more is needed – the insights of our nation's cities and states and communities, our businesses and schools and universities.
Innovations and technologies can play an important part, as can a friendly call, a helping hand, a fulfilling job – the little platoons of life that sustain and lift.
We're determined to do our part at the Department of Energy (DOE). 
In addition to our work under the Executive Order as a member of a Task Force co-chaired by the Assistant to the President for Domestic Policy and the Secretary of Veteran's Affairs, DOE labs are utilizing our supercomputers to enhance machine learning and artificial intelligence to provide groundbreaking answers to questions surrounding Post Traumatic Stress Disorder, Traumatic Brain Syndrome and even opioid abuse.  In the near future, we hope to increase the impact of these efforts even further by leveraging our increasing capabilities in exascale computing.
But there's even more we can do – and must do – for our veterans.
So please check out the RFI, and please offer your ideas, your insights, and your capabilities.
Join us in overcoming this challenge – as Americans, strong, proud and free.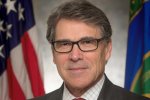 Rick Perry
Rick Perry served as the 14th United States Secretary of Energy.Rick Perry served as the 14th United States Secretary of Energy.
more by this author