The prosperity, security, and national competitiveness of the United States depend on science and innovation. Due to the inquisitiveness of the American mind, our entrepreneurial spirit as a people, and government's support for basic and early stage research in partnership with universities and private sector research, America is unsurpassed in scientific discovery and innovation. The Administration and Congress, through their support of the Office of Science and the entire DOE national laboratory complex, have made it clear that America is committed to remaining a wellspring of scientific understanding, technological sophistication, and engineering skill not only for today, but throughout the 21st Century.
The White House Office of Science and Technology Policy (OSTP) articulated the important role that the federal government plays in scientific research, without supplanting the roles of the private sector and universities:
"Federal R&D dollars focused primarily on basic and early-stage applied research, paired with targeted deregulation, and investment in science, technology, engineering, and mathematics (STEM) education and workforce development, will strengthen the Nation's innovation base and position the United States for unparalleled job growth, continued prosperity, and national security." 
DOE's Office of Science (SC) plays a vital role in the pursuit of this national agenda. Tackling the most daunting Science and Technology (S&T) challenges, SC sponsors groundbreaking research and provides the academic and commercial sectors with uniquely powerful tools of discovery and analysis. In FY2019, SC will continue to invest in a wide variety of pioneering research, including new emphases on several innovative fields with great potential to enhance human wellbeing. Through pioneering research, coordinated with other federal research and development investments, SC will contribute to America's S&T pre-eminence.
The Office of Science Plays a Vital Role in American Scientific Achievement
In the Information Age, SC must ensure that the United States occupies the commanding heights of scientific knowledge and the means of scientific discovery. The Office of Science (SC) and the whole national laboratory complex support a diverse portfolio of research that advances the science needed for revolutionary energy breakthroughs, seek to unravel nature's deepest mysteries, and provide the Nation's researchers with the most advanced large-scale tools of modern science.
The Office of Science manages this research portfolio through six core program offices: Advanced Scientific Computing Research, Basic Energy Sciences, Biological and Environmental Research, Fusion Energy Sciences, High Energy Physics, and Nuclear Physics.
In addition, the Office of Science manages and supports additional programs and activities, including the Workforce Development for Teachers and Scientists program, the DOE Small Business Innovation Research / Small Business Technology Transfer programs, and the Office of Project Assessment.
National Laboratories
The Office of Science oversees management of 10 of the 17 DOE national laboratories and supports research at all of them. These world-leading facilities, which employ more than 58,000 scientists, technicians, and other staff, perform pioneering basic research across a wide range of scientific fields. The laboratories constitute a pre-eminent federal research enterprise, providing the Nation with strategic scientific and technological capabilities. The national labs:
Execute long-term government scientific and technological missions, often with complex security, safety, project management, or other operational aspects;

Develop unique, often multi-disciplinary, scientific capabilities beyond the scope
of academic and industrial institutions, to benefit the Nation's researchers and national strategic priorities; and

Develop and sustain critical scientific and technical capabilities to which the government enjoys assured access and from which it obtains ongoing innovation.
Our national laboratories are the envy of the world, and the Office of Science is proud that it has been entrusted with the stewardship of these "crown jewels" of the American innovation ecosystem.
Thresholds of Transformation
The importance of the Office of Science is underscored by the breadth of its scope and its role in many high-impact areas of innovation. Since taking office, the Department's leadership has highlighted the exciting status of six areas of technology with potentially transformative benefits to humankind: advanced and sustainable energy, genomics, machine learning and artificial intelligence, advanced mobility, space exploration, and quantum information science (QIS). Major breakthroughs are nearly within our grasp in these areas. DOE's national laboratories are contributing to progress in all six, with Office of Science financial assistance and Office of Science user facilities making invaluable contributions.
Curiosity and Usefulness
The origins of the Office of Science underscore its potentially dramatic impact on American life. The Office of Science traces its origins to scientists working for the Manhattan Project in what became the country's first national laboratories. Their investigations of sub-atomic physics and development of accelerators, colliders, and other tools gave rise over time to a host of unforeseen discoveries and technologies, including the field of nuclear medicine and discoveries in genomics and innovative energy technologies. In a similar fashion, even the most esoteric explorations the Office of Science supports today hold the potential to enable great advances in human knowledge and well-being. While pursuing fundamental understanding of the physical world and its phenomena, the scope of Office of Science investigations encompasses both research without readily apparent near-term applications and problem-solving research—in Prof. Donald Stokes's nomenclature, work in both Bohr's quadrant of basic research and in Pasteur's quadrant of use-inspired research.
Planning and Discipline
Office of Science programs have demonstrated the benefits of long-range planning and disciplined project management. Through deep engagement with leading experts and organizations in their respective fields, Office of Science programs have benefited from varied perspectives and helped to foster consensus with respect to the most promising scientific infrastructure and topics for research. The Office of Science's well-formulated plans enabled the prompt commencement of construction projects in response to appropriations, such as upgrades to the light sources at Argonne National Laboratory, Lawrence Berkeley National Laboratory, and SLAC National Accelerator Laboratory and to the neutron source at Oak Ridge National Laboratory, to name a few.* The national labs are well poised to continue delivering major projects on time and under budget, as with the recently-completed upgrade to the Continuous Electron Beam Accelerator Facility at Thomas Jefferson National Accelerator Facility. The Office of Science commissioned Summit, the fastest supercomputer in the world, at Oak Ridge National Laboratory and is already creating three significantly more powerful exascale computing facilities in the national lab complex. Argonne Lab and Fermi National Accelerator Facility, working with the University of Chicago, have formed the Chicago Quantum Exchange and are creating a unique 30-mile network to demonstrate communications through quantum entanglement. In the near future, the Office of Science expects to begin developing the Electron-Ion Collider, a next generation facility to explore the interiors of protons and neutrons. The creation and operation of this unsurpassed portfolio of user facilities are essential to maintaining American S&T leadership.
Lab-to-Market
In accord with the Administration's cross-agency lab-to-market initiative goals, the Office of Science will continue to foster collaboration among national labs, other research institutions, state and local governments, and private enterprises. While Office of Science-sponsored investigations are inherently pre commercial, investigators are encouraged to reflect on potential uses for their discoveries, take appropriate steps to establish intellectual property rights, and entertain wide- ranging dialogues that may transform emerging knowledge into innovative applications.
Global Context
Great scientific discoveries also come from collaborations and reciprocal exchanges that cross national borders. American participation in overseas projects like the Large Hadron Collider in Europe and foreign participation in U.S.-based projects like the Long Baseline Neutrino Facility / Deep Underground Neutrino Experiment are outstanding examples of international cooperation. The Office of Science plans to accelerate the identification and execution of opportunities for fruitful cooperation and knowledge sharing with counterparts and investigators from around the world. At the same time, the Office of Science will responsibly steward the investment of American taxpayers. In doing so, we expect fairness and reciprocity; while proudly cooperating with foreign partners through authorized channels, the Office of Science will maintain a vigilant guard against illicit and potentially harmful foreign exploitation of its resources. The Department must be attentive to the challenge posed by other nations, not merely through targeted investments in research, but through outright theft of American intellectual property.
FY2019 SC R&D Priorities
In the 2019 fiscal year, we directed the Office of Science to give special emphasis and priority to seven R&D initiatives: (1) machine learning / artificial intelligence (ML / AI); (2) QIS; (3) microelectronics innovation; (4) fusion energy; (5) bioscience; (6) isotopes supply capabilities; and (7) cross cutting enabling technologies for user facilities. Among these topics, artificial intelligence, QIS, and advanced microelectronics were called out for emphasis by OSTP's FY2020 budget priorities memorandum as well.
Machine Learning / Artificial Intelligence
Cutting-edge research in a wide array of topics, from sub-atomic particle experiments to public health investigations, generate enormous volumes of data in which critical clues can be hidden and connections can be difficult to discover. Advances in ML / AI will enable transformative scientific breakthroughs in such fields within and outside the DOE mission space, especially when applied through the Office of Science's leadership computing facilities (LCF). For example, in addition to being the fastest computer in the world, the Summit LCF that DOE commissioned at Oak Ridge National Laboratory earlier this year was designed from the ground up to be the most powerful one for machine learning. With its high-performance computing expertise and its access to enormous data sets, including data from user facilities and from other government agencies, the Office of Science is uniquely positioned to facilitate the development of ML / AI techniques and hardware.
Quantum Information Science
At sub-atomic scales, matter and energy behave in strange ways that offer extraordinary opportunities for unconventional sensing, network communications, and computing. These opportunities include functions that could not be performed by even the most advanced devices using classical mechanics and computing methods at the outer realm of forecasted possibilities. Such devices would potentially provide unprecedented security in communications, scientific and medical diagnostics of unmatched sensitivity, and tools
for simulations and calculations beyond the reach of classical computing methods. Recent progress in materials science and technology have made the creation of such systems more feasible than ever before. While other nations have begun significant investments in QIS, the U.S. can maintain leadership in this challenging field—harnessing quantum behaviors into powerful applications—through interagency efforts that exploit the unrivaled facilities and expertise in physics and computing provided by the Office of Science. In doing so, we are confident that important QIS innovations in computing, network communications, and sensing will emerge.
Microelectronics Innovation
The pace of improvement in classical computing performance, density, and energy usage predicted by Moore's Law and Dennard scaling have slowed as existing materials and design paradigms approach physical nanoscale limits. The continuous progress that has been manifested in everything from smaller, more powerful smartphones to faster LCF supercomputers cannot be sustained without innovations in microchip architectures, design procedures, and manufacturing methods. But with groundbreaking
R&D in these areas, our Nation can take classical computing beyond Moore's Law and reestablish American leadership in microelectronics. In coordination with other federal agencies, the Office of Science will invest in efforts to discover materials, architectures, and fabrication methods needed to achieve these goals.
Fusion Program Acceleration
The development of fusion power generation holds the key to providing nearly unlimited energy to power the world in a clean and responsible manner. Fusion—the process that powers the Sun—utilizes abundant natural elements and creates no spent- fuel waste. Our mix of governmental, academic, and private enterprise investments in fusion energy research creates unique opportunities for synergistic collaboration and American leadership in this field. Recent substantial increases in appropriations also position the Office of Science to accelerate the pace of development in fusion energy. While we continue to support international collaborations in fusion research, we are working to accelerate U.S.-based leadership in the science through the national labs, U.S. universities, and increased interaction with the world's leading private fusion innovation community.
Bioscience
The Office of Science has a well-established role in genomics and other fields of biological science, including a key role in the Human Genome Project. Fundamental research in genomics and other aspects of bioscience is germane to a variety of DOE missions concerning fuels, energy efficiency, advanced manufacturing, environmental management, and national security. The methods that are developed in working on such DOE mission topic missions also hold great promise for use in other fields, such as development of precision medicines and advanced agriculture. Programs such as Joint Genome Institute will continue to be important Office of Science investments that will pay future dividends across a wide field of technologies.
Isotopes Production
The Office of Science is a vital supplier of radioactive and stable isotopes for research and applications such as medical diagnostics and therapies. For varied isotopes that lack commercial suppliers, DOE fills the gap by stewarding processing facilities in national labs and supporting isotope production at academic and commercial facilities across the country. As the important High Flux Isotope Reactor ages, new isotope production methods are developed, and new isotope-based applications are increasingly identified, the Office of Science is well positioned to revisit its isotope program, including potential investment in new or rejuvenated facilities to meet the nation's needs.
Cross-Cutting Enabling Technologies
The Office of Science already operates some of the largest, most complex, and most powerful scientific infrastructure in the world, including light sources and
particle colliders. The next generation of Office of Science user facilities can be even more powerful, if we improve vital hardware components that drive them. Many of these
components have cross-cutting applications; powerful magnetics, for example, contribute to particle accelerators and fusion science research both, among other things. In connection with plans for future world-leading user facilities, the Office of Science will be investing in materials research and other explorations to develop next-generation particle accelerators, stronger high-field magnets, and more advanced superconducting radiofrequency cavity technologies.
Dedication to American Leadership
While respectful of fellow explorers and mindful of the sometimes awesome challenges faced at the frontiers of knowledge and engineering skills, the U.S. is committed to its pre-eminence in science and technology. As a nation, we celebrate our collaborations and respectfully recognize our peers, but we must always strive to be unsurpassed in scientific discovery, technology, and innovation. Along with world-class educational systems and research universities and energetic private enterprise, the ongoing investment and performance by the programs of DOE's Office of Science are essential to our national goal of being second to none.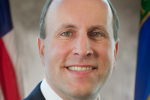 Paul M. Dabbar
Paul Dabbar was the Under Secretary for Science, served as the Energy Department's principal advisor on fundamental energy research, energy technologies, and science.
more by this author