This interactive map is not viewable in your browser. Please view it in a modern browser.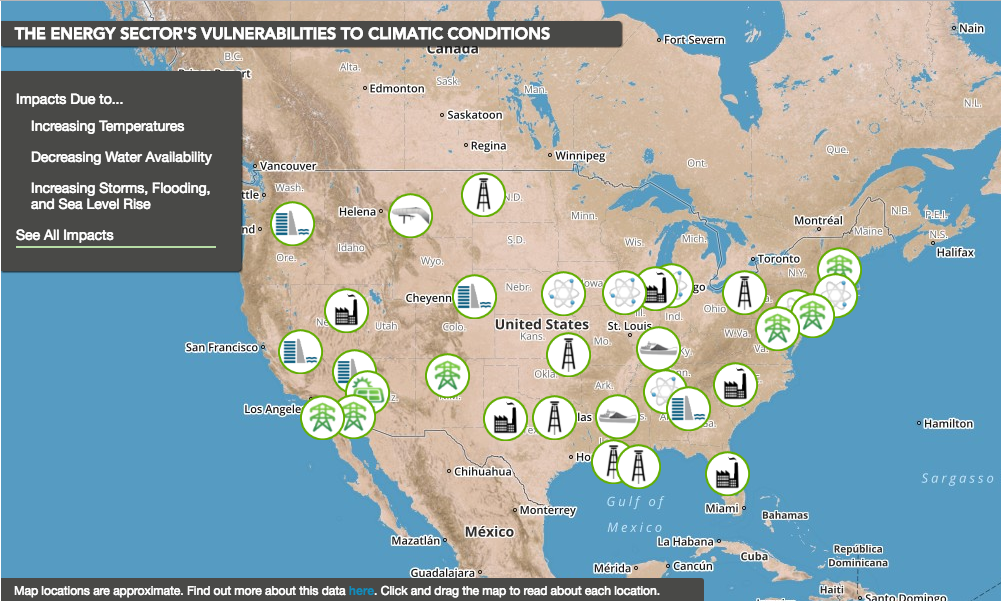 This Tuesday marks the 45th observance of Earth Day, an annual time to focus on the importance of taking good care of our planet.

Here at Energy.gov, we're celebrating Earth Day all week long. We'll focus on climate change, highlight Earth Day events and share ways Americans #ActOnClimate -- from climate scientists at the National Labs to high school students competing in the National Science Bowl.

Today, we're taking a look at how climate change affects our energy supplies and infrastructure. According to a 2013 Energy Department report, climate change has created a higher risk of shutdowns at coal, natural gas and nuclear power plants, thanks to decreased water availability -- which affects cooling at thermoelectric power plants, a requirement for operation.

Explore the interactive map above to see how three extreme climate trends -- increasing air and water temperatures, decreasing water availability across regions and seasons, and increasing intensity of storm events, flooding and sea level rise -- have impacted the energy sector over the past decade. Read the report to learn about other energy sector impacts that could be worsened by climate change.

How does climate change affect you -- and how do you #ActOnClimate? Let us know on Twitter, Facebook, Instagram and Google+, or by email to newmedia@hq.doe.gov. And check back all week long for more Earth Week updates from Energy.gov.