Tiny algae organisms have big potential for America's clean energy future. These microscopic green machines convert sunlight into energy, storing it in the form of natural oils that can be extracted to fuel planes, cars and trains. It's estimated that under the right conditions, algae could produce up to 60 times more oil per acre than land-based plants.
Since algae needs carbon dioxide to grow, it takes greenhouse gases out of the atmosphere, making it nearly carbon-neutral. In addition, algae can grow in a variety of environments -- including man-made ponds, brackish water and wastewater.
While algae shows great potential as a homegrown and renewable fuel source, just how far away is this promise from becoming a reality? Here are three reasons why we should expect algal biofuels to become a major contributor to our nation's energy mix sooner rather than later.
Production is up.
One of the biggest barriers to making algal biofuels more affordable is developing the right kind of algae that can yield large amounts of oil and grow quickly enough to drive down production costs. The Energy Department's Bioenergy Technologies Office is addressing this problem by supporting research that involves finding new algae strains in the wild and improving existing algae strains in the lab.  
Recently, researchers at the Scripps Institution of Oceanography genetically engineered algae to boost the amount of energy-storing molecules essential for making oil, signaling a breakthrough in algal biofuel production. | Photo by National Renewable Energy Laboratory. 
Logistical problems are being solved.
Producing any type of fuel requires multiple processes and systems that convert raw material into a finished product. For algal biofuel production, this involves processes like harvesting, dewatering and concentrating algae material so it can be preprocessed and eventually refined into fuel. This can be expensive and time consuming -- but the Energy Department is finding new ways to streamline logistics and lower the cost of algal biofuel production. This includes a process developed by Pacific Northwest National Laboratory that transforms algae to oil, water and usable byproducts in less than an hour. | Photo by Pacific Northwest National Laboratory. 
Algal biorefineries are scaling up -- big time. 
Algal biofuels are being produced on a bigger scale than ever before with help from Energy Department-supported integrated biorefineries that are changing the clean energy game. Among these is Sapphire Energy in New Mexico, which is producing algal oils that can be easily processed into diesel and other fuels through their refining partners, Phillips 66 and Tesoro. When fully constructed, the plant will produce up to 1 million gallons of algae-based biofuels per year. | Photo courtesy of Sapphire Energy. 
Watch this Energy 101 video to see how algal biofuels work, and go to energy.gov/algae for more details on the Energy Department's efforts to make this clean, renewable fuel source more affordable and sustainable. Also, read this article to find out how algae can be used to make other products (like surfboards)!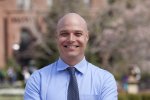 Paul Lester
Paul Lester is a Digital Content Specialist in the Office of Public Affairs. Paul was born in Ohio but spent most of his life in Florida, where he worked as news researcher/archivist and online editor for the Orlando Sentinel.
more by this author