You are here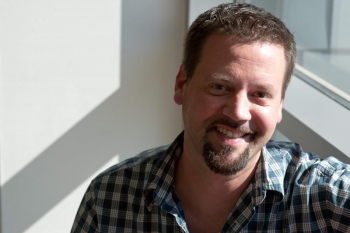 After initially majoring in Theatre in college, Rob Guglielmetti pursued a career in electrical engineering, working on daylighting at NREL's RSF highly efficient RSF building. | Photo Courtesy of Dennis Schroeder, NREL
From comedy to theater to architecture, our latest 10 Questions guest has a wealth of experience. More recently, Rob Guglielmetti helped leverage daylighting (i.e. sun and sunlight) to help the National Renewable Energy Laboratory's (NREL) Research Support Facility meet its energy efficiency goals. Get an in-depth look below and learn how computer simulation, open-source tools and human creativity inspire his work.
Question: What led you to your position as an electrical engineer at NREL?
Rob Guglielmetti: Well, it was a circuitous journey for sure. It started with stand-up comedy, to be honest! An aspiring comedian -- following a long, boring year as an economics major -- I became a theatre major as an undergrad. That almost immediately led to my discovery of a love for light, as I watched a play going through a technical rehearsal where the lighting was being set.
I wondered why all the different light fixtures were needed, why they were set to those angles and colored the way they were. It led to the subsequent devotion of my undergraduate study to theatrical lighting design, and an appetite for the physics and physiology involved in lighting design.
I eventually gravitated to architectural lighting design, and lighting simulation in particular, which remains my main interest. After many years of doing lighting and daylighting design and simulation, primarily for museums, libraries, school facilities and office buildings in New York City, I got a job as a sustainable design consultant in Boulder, CO. There, I focused on evaluating daylight as an energy efficiency measure, and it was there where I got involved in the daylighting design for the DOE/NREL Research Support Facility (RSF) project. The project's goals for energy efficiency test daylighting and attempt to characterize it through simulation -- to the fullest.
This experience helped me recognize the leadership and interest at NREL in the application of simulation toward building efficiency, and so I applied for a job in the Commercial Buildings Research Group. I've been here since May 2009 (my former client is now my employer) and I now work in the RSF -- a building I watched evolve from sketches to drawings to steel. It's been an interesting turn of events.
Q: Can you tell us a little more about the work you did for RSF?
RG: I was tasked with proving through simulation that the design met certain performance metrics, and providing guidance on how to tweak the design to meet the goals (the initial design did not meet the goals when I showed up).
Honestly, many of the strategies are not innovation -- that's what is so interesting about the RSF design. It's a validation of sustainable practices that have been used for centuries (daylighting, passive solar, climate responsive design), paired with an approach to make these principles work in a modern design and construction paradigm.
The daylighting design evolved through integrated simulations -- using daylight simulation to understand how, where and when daylight would be available, translating that into where and when the electric lights would be off because of an abundance of daylight, and using that data to inform the whole building energy simulation which takes into account all the energy flows with the mechanical systems, building envelope, etc.
In addition to the architectural form and envelope characteristics, we also used simulation to evaluate the performance of the daylight redirecting devices used on the project. These louver-like devices sit in the upper windows and capture incoming sunlight, redirecting it onto the ceiling and essentially, turning the entire ceiling into a light source.
Q: Why is daylighting important?
RG: The main reason daylighting was a driver on RSF was for energy efficiency. The simple fact is that if you bring daylight into a space, you can turn off the electric lights for much of the day, saving energy that would otherwise be powering lights and cooling the area from heat produced by lights. That's the main reason for daylighting from an energy standpoint.
There is also a more compelling reason for daylighting-built environments and that is rooted in the fact that human beings have evolved, in part, around light. In addition to the photoreceptors in our eyes that detect light and send signals to our brain to describe light, contrast and color, we have other, recently-discovered photoreceptors (intrinsically photoreceptive retinal ganglion cells or IpRGCs) in our eyes that respond to daylight or lack thereof to tell our brains to secrete hormones that regulate our natural wake/sleep cycles. Research is showing a strong link between daylight and human health and performance.
A daylit space will always be varied in its appearance, whereas a space with no windows and illuminated entirely by electric lights, for the most part, will be a boring and sad place to be. These are all very significant and tangible benefits to daylighting in architecture.
Q: You've done work in lighting design for museums -- how does this compare to designing for RSF?
RG: It's actually very applicable. The daylighting of museums is largely an exercise in using natural light to illuminate the artwork and sculpt the building form, while providing appropriately illuminated spaces for the viewing of artwork. In the museum world, this means maintaining light levels and distributions that preserve the artwork in the galleries, add drama in the public spaces and provide transitional luminous environments between the two. The best museums in the world accomplish the bulk of this workload via daylighting and make up the difference with electric lighting.
This is fundamentally the same strategy we used in RSF, the only difference in this case are that supplanting electric lighting when possible in the main goal, and the people, in essence, are the artwork.
Q: You mentioned simulation earlier -- how does computer simulation and modeling impact your field?
RG: Simulation is huge in my field. The interactions of daylight and electric lighting controls are complex enough so when you add the impact of lighting controls on overall building energy use, it becomes a fairly difficult problem to simulate.
Building rating systems, codes and standards all require some form of performance demonstration, and a common method used is simulation because it allows for validation of the design's performance while the building is still being designed.
Q: What buildings technology projects are you working on right now?
RG:
I am currently involved in the OpenStudio Platform software development project. NREL Commercial Buildings is developing an integrated design analysis platform that leverages EnergyPlus and
Radiance
(Energy Department-funded simulation tools) to provide a holistic simulation-based view of sustainable building design concepts.
Many of the simulation challenges will be addressed by OpenStudio, such as being able to perform a whole building energy simulation that incorporates a rigorous daylight and electric lighting control simulation as part of the model.
We also hope to be able to use the core OpenStudio simulation platform to perform climate-based building design optimizations and produce other potential tools, performance databases and guides.
Q: What are the biggest challenges in designing daylighting for commercial buildings?
RG: Probably the biggest is getting the entire design team on board at the very beginning of a project and keeping a sharp focus on the daylighting goals and requirements throughout the project. Daylighting is not simply a line item in the construction budget, it's the integration of a lot of best practices, material selection, envelope decisions, controls, circuiting, commissioning and more.
Another challenge is in the way the current building codes and standards quantify lighting. Lighting efficiency is generally based on installed lighting, and the connected load this represents. But if you daylight a building, many of those installed light fixtures can be dimmed or turned off for much of the day. The current codes essentially give you little to no credit for innovative and aggressive daylighting application, making it a hard sell on many projects. The answer is to move toward codes and standards based on actual lighting energy use, rather than installed lighting power.
Q: Do you have any advice for students interested in engineering?
RG: What are you asking me for? I'm probably the worst student ever employed by NREL. But since you asked, I'd say pursue your interests while you have the advantage of being in school and have the time to delve into this stuff with access to professors' and advisors' guidance.
But also don't be afraid to pursue your interests on your own. You can read books and download free software to explore many corners of engineering and physics -- this is essentially how I followed my path through lighting simulation.
Q: What is your favorite gadget in the lab?
RG: The HR department will cringe when they read this, but my favorite gadget in the lab is the collection of human beings I get to work with every day in my group at NREL. I am inspired all the time by the intellect and creativity of so many of the people I get to ask questions and share knowledge with.
My second favorite gadget is RSF itself. I simply cannot describe the incredible experience it has been to inhabit a building I helped design. Since a daylit building is a highly variable one, it's tremendously valuable for me to experience the illuminated environment over time and get feedback from the other occupants in the building.
Q: Last question, what research are you watching (beside your own)?
RG: It's always nice to see what the other National Labs are up to: Lawrence Berkeley National Laboratory is currently making great strides in adding functionality to Radiance and other building simulation tools, and Pacific Northwest National Laboratory is doing good work on luminaire performance and the specification of the newer solid state lighting.
There are a bunch of people out there that are truly inspirational, in terms of their contributions to Radiance, lighting simulation, validation, and application -- more than I could mention here. But I do want to single out a few of them: Greg Ward is the author of Radiance and continues to add advanced features to the source code, still finding time to patiently answer newbie questions just as he answered mine years ago. Christoph Reinhart, currently at the Harvard Graduate School of Design, is an inspirational educator, as is John Mardaljevic from De Montfort University in the UK.
These are but a few of the great people in the Radiance community -- full of lighting simulation geeks who gravitated to Radiance because of its power and elegance -- and their collective expertise and experience with that tool is housed at
www.radiance-online.org
; that's always a place I frequent.
Niketa Kumar is a Public Affairs Specialist in the Office of Public Affairs.