You are here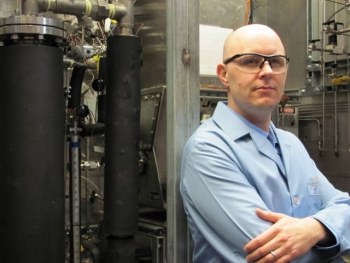 Chemical engineer Alan Zacher
Chemical engineer Alan Zacher works on advancing cost competitive biofuels at Pacific Northwest National Laboratory. He took some time to share advice for students interested in science and engineering and give us the download on his work developing propylene glycol from renewable sources.
Question: Why did you become a scientist?
Alan Zacher: Because I love to fix problems, solve puzzles and replace old ideas with new, efficient ones. I came to Pacific Northwest National Laboratory (PNNL) for the huge variety of projects and the different research areas in which I can play…I mean, work.
Q: At PNNL, you are part of the Chemical and Biological Process Development Group. What led you to this position?
AZ: I got into it because of the big challenges and exciting opportunities, I am always looking for something new to do. While working at PNNL I've been a pilot-plant engineer, an analytical chemist, a cost evaluator, a waste cleanup researcher, an international disaster management instructor, a catalyst researcher, an equipment designer, an instructor to law-enforcement agencies, and even a chemical archeologist for a brief time. What's next?!
Q: What are you working on right now?
AZ: Converting biomass to gasoline, diesel and jet fuel using fast-pyrolysis and catalytic upgrading. We are working to make the process cost competitive with petroleum. The truth is, I secretly love the sound and feel of a big V8, so I need to advance alternative fuel sources to keep them all running.
Q: Tell us about propylene glycol from renewable sources – how does it work and what is its impact on our petroleum consumption?
AZ: Basically, it's snipping off one of the OH groups of a glycerol molecule to make propylene glycol (PG). It sounds simple, but the trick was discovering a way of doing it efficiently. Glycerol can come from different places. For example, it is a by-product of making biodiesel. PG is part of the products we use every day and, until now, all PG on the market came from processing petroleum. With this process, it can come from biomass, and it feels pretty good to be a part of that.
Q: Which projects are you watching (beside your own)?
AZ: I watch advances in LED lighting technology. I like the idea of efficiently making visible light.
Q: Did you have a teacher or role model who inspired you to become an engineer?
AZ: A teacher? Ray Neff, my high school biology teacher who made science surprising, interactive and full of crazy stories. A role model? Harvey Zacher, my dad. He taught me the engineers' approach to every challenge: strategic, efficient and pragmatic.
Q: Do you have advice for students interested in science and engineering?
AZ: Read, investigate and challenge your own assumptions. Great leaps often occur by someone who didn't believe that "it can't be done!"
Q: Changing gears a little, what can you never start a day at the lab without?
AZ: A cup of green tea , really loud, obnoxious music, and reading a chapter out of the Bible.
Q: Do you have a favorite fictional scientist?
AZ: Lem and Phil, researchers at Veridian Dynamics in the ABC show, Better Off Ted. I particularly admired their work on the Uncomfortable Office Chair.
Q: Last question – what do you enjoying doing outside of the lab?
AZ: Playing with my kids, repairing antique clocks and tactical shooting. Not all at once.