You are here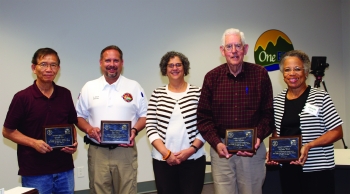 OREM Manager Sue Cange (center), with retiring ORSSAB members (from left) Donald Mei, Scott Stout, Bob Hatcher, and Alfreda Cook.
Six local citizens were recognized for service to the Oak Ridge Site Specific Advisory Board (ORSSAB), a citizens' panel that makes recommendations to the Department of Energy (DOE) on its cleanup mission in Oak Ridge and provides an avenue for public involvement on cleanup projects. Alfreda Cook, Bob Hatcher, Jennifer Kasten, Donald Mei, Scott Stout, and Wanfang Zhou retired from the advisory board in June.
ORSSAB's members are federally appointed by DOE to two-year terms. Member appointments can be renewed for up to three terms.
Alfreda Cook, Jennifer Kasten, Donald Mei, and Scott Stout all joined ORSSAB in 2012 and completed two consecutive terms. Wanfang Zhou joined in 2014 and completed one term. Bob Hatcher was the longest serving member, having been with ORSSAB since 2009.
"Many in this group have been with us a long time," said Sue Cange, Manager for the Oak Ridge Office of Environmental Management (OREM), which oversees DOE's cleanup efforts in Oak Ridge. "These individuals have had a tremen­dous impact on our board, and we are grateful for their contributions," said Cange.
All of ORSSAB's members lend their expertise and experience from culturally diverse backgrounds to a common communal goal for environmental cleanup and stewardship in Oak Ridge. They are scientists, researchers, teachers, civil servants, volunteers, parents, spouses, and caregivers. Many of them are equal parts prestigious professionals and local philanthropists. All have contributed to ORSSAB's success during their tenures.
Alfreda Cook, a resident of Oak Ridge, is a retired data and systems analyst. As a contrac­tor for OREM, she managed the development of various electronic systems that enhanced the accuracy and reli­ability of waste performance data reported to DOE. During her appointment, Cook served as ORSSAB's vice chair and actively en­gaged in a variety of environmental issues.
Bob Hatcher, also an Oak Ridge resident, has long held both a personal and professional passion for environmental issues in his local community. Hatcher is a research scientist in the Department of Earth and Planetary Sciences at the University of Tennessee, Knoxville, and he has dedicated much of his time to mapping the regional geology of Appalachia and the Southeast.
Jennifer Kasten retired in Knoxville after working as a nuclear and environmental engineer for Tennessee Valley Authority, the University of Tennessee, and Oak Ridge National Laboratory. She supports various non-profits through fundraising activities, including Knoxville's Random Acts of Flowers, which recycles floral arrangements as gifts for patients in hospitals, nursing homes, and other caregiving facilities.
Donald Mei spent much of his career with Duke Energy in Charlotte, North Carolina, as a nuclear engineer working in radiation protection and dosimetry. He retired to Oak Ridge with his wife, Gloria, also a former board member, who currently works in radiation protection at Oak Ridge National Laboratory.
Scott Stout, Rockwood resident, is the acting director of the Office of Emergency Services for Roane County. He also leads Roane County's Risk Management Program and serves on the Board of Directors for the Oak Ridge Reservation Community Alliance.
Wanfang Zhou, a resident of Knoxville, is a hydrogeologist with ERT, Inc., a company that provides support to federal and state agencies through scientific analysis and modeling, engineering, information technology, and a range of environmental services and solutions. Zhou is also a certified professional geologist and member of the Tennessee Chapter of the American Institute of Professional Geologists as well as the East Tennessee Chinese Association.
To replenish its ranks, ORSSAB seated nine new board members in July. The new recruits will be introduced at the board's next public meeting, scheduled for September 14, 2016.
ORSSAB meets on the second Wednesday of each month at 6 p.m. at the DOE Information Center in Oak Ridge, located at 1 Science.gov Way. Information about ORSSAB's proceedings or on becoming a member of the board is available on ORSSAB's official website or by calling (865) 241-4583 or (865) 241-4584.