You are here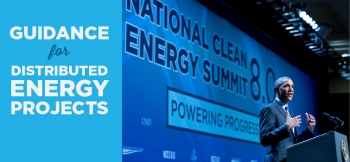 I was pleased to attend today's National Clean Energy Summit in Nevada, where President Obama made an important announcement about how the Loan Programs Office (LPO) can support distributed energy generation. LPO has released supplements to its existing Renewable Energy and Efficient Energy (REEE) Projects and Advanced Fossil Energy Projects solicitations to provide guidance on the kinds of Distributed Energy Projects and project structures it can support under the Title XVII loan program. In addition, the President announced that LPO has initiated the process to increase the loan guarantees available under the REEE and Advanced Fossil Energy Projects solicitations by up to an additional $1 billion.  
Distributed Energy Projects are currently driving innovation and transforming U.S. energy markets.  Unlike the large, centralized power plants that LPO has financed in the past, Distributed Energy Projects are comprised of installations of facilities utilizing a single technology, or a defined suite of technologies, at multiple sites, deployed pursuant to a master business plan. Demonstrating the market viability of technologies such as rooftop solar, energy storage, smart grid technology, and methane capture for oil and gas wells would create economic opportunity, strengthen energy security, and reduce greenhouse gas emissions.
As with other types of projects LPO has financed, Distributed Energy Projects using innovative technology face market barriers because commercial lenders are often unwilling or unable to take on the risk of new or innovative technology or project structures until they have a strong history of credit performance and commercial operation. Title XVII of the Energy Policy Act of 2005 addresses the capital constraints associated with innovative technologies in order to accelerate the domestic deployment of such innovative energy technology.
Many potential Distributed Energy Project applicants may be reluctant to submit applications under LPO's solicitations due to uncertainty regarding a project's eligibility or uncertainty about whether LPO will accept the applicant's proposal for a financing structure. LPO believes that Distributed Energy Projects can be eligible projects under its currently outstanding solicitations. However, Distributed Energy Projects require financial structures that are different from most of the financing structures that LPO has used in the past for financing large, centralized projects.
LPO is supplementing its solicitations to make clear that it will accept and consider applications for Distributed Energy Projects and to show how such a transaction might be structured.  We understand that other project structures may exist or be developed, and we will accept and consider applications for projects that use those structures.
Since the Title XVII loan program was established ten years ago, LPO has financed some of the largest utility-scale photovoltaic solar, concentrating solar power, thermal energy storage, wind, and advanced nuclear facilities in the U.S. and the world. With LPO's successful record of financing innovative projects and $40 billion in remaining loan and loan guarantee authority, we think LPO can play an important role in more rapidly deploying projects that will help address climate change and continue the growth of the nation's clean energy economy – including Distributed Energy Projects.