You are here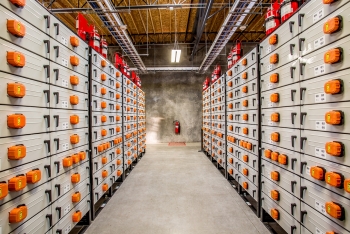 Today, the Department's Loan Programs Office (LPO) is kicking off a long weekend of celebrating American independence by announcing a major investment in American energy. The $4 billion Renewable Energy and Efficient Energy Projects Loan Guarantee solicitation  is intended to support the first commercial-scale deployments of the next wave of innovative clean energy technologies.
Investing in American energy and reducing the emissions that lead to climate change are important parts of President Obama's Climate Action Plan. The Department's loan guarantees are already helping to achieve those goals.
Our previous loan guarantees for renewable projects helped to finance the world's largest completed photovoltaic (PV) solar project, the world's largest concentrating solar power (CSP) plant, the first solar thermal energy storage in the U.S., one of the world's largest onshore wind farms, and one of the nation's first cellulosic ethanol projects. 
We want to replicate that success with this new solicitation. The LPO has initially identified technology areas that are poised for commercial-scale development, can catalyze industries, and be most easily replicated. While we can issue a loan guarantee to any project that meets the solicitation's requirements, we've identified five target areas:
Advanced Grid Integration & Storage: This area focuses on renewable energy systems that mitigate issues related to variability, dispatchability, congestion, and control by incorporating technologies such as demand response or local storage.  These advanced system designs will demonstrate greater grid compatibility of generation from renewable resources and open up an even larger role for renewable power generation.
Drop-In Biofuels: This area focuses on biofuels that are more compatible with today's engines, delivery infrastructure and refueling station equipment.  These projects take advantage of existing infrastructure by providing nearly identical bio-based substitutes for crude oil, gasoline, diesel fuel, and jet fuel, or produce intermediate fuel feedstocks that can be delivered to and integrated into existing oil petroleum refineries. 
Waste-to-Energy: This area focuses on projects harnessing waste products such as landfill methane and segregated waste as a source of energy.  These types of projects will enable commercial scale utilization of waste materials which are otherwise discarded and produce significant clean, renewable energy. 
Enhancement of Existing Facilities: This area focuses on projects incorporating renewable generation technology into existing renewable energy and efficient energy facilities to significantly enhance performance or extend the lifetime of the generating asset. 
Efficiency Improvements: This area focuses on projects that incorporate new or improved technologies to further improve on energy  efficiency that would  substantially reduce greenhouse gases.
As we move forward with this solicitation, we're excited about the prospect of catalyzing a new spectrum of innovative clean energy technologies and generating more American energy.