You are here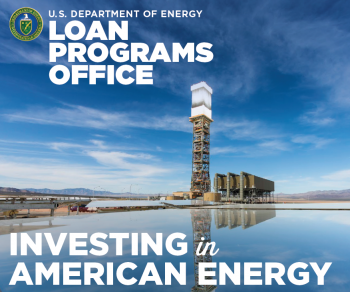 In February, I travelled with Secretary Moniz to southern California for the dedication of the Ivanpah Solar Electric Generating System, a concentrating solar power (CSP) plant that received a $1.9 billion loan guarantee from the Department's Loan Programs Office (LPO). Witnessing thousands of mirrors focusing the power of the sun on 479-foot towers to generate clean electricity is an impressive sight to see firsthand.
I'm not the only one who was impressed. This week, Ivanpah became the first renewable project to be named Plant of the Year by POWER Magazine, which has been covering the power generation industry for more than 131 years. The project was cited for a number of first-of-a-kind construction elements, as well as being the largest solar thermal plant in the world, the first large-scale solar project to use power tower technology and the largest renewable project funded to date by LPO.
Helping to finance projects like Ivanpah, which represent some of the first and largest uses of innovative technology in the United States, is at the core of LPO's mission. Looking forward, LPO hopes to help finance additional projects that could contend for future Plant of the Year awards. Just last month, LPO issued a $4 billion solicitation for renewable energy and efficient energy projects to go along with its $8 billion advanced fossil energy projects solicitation.
Playing a role in an award-winning project is certainly an honor for LPO. But more importantly, it shows that investing in American energy is paying off with the deployment of innovative technologies that reduce greenhouse gas emissions.