You are here
The American auto industry sits at the heart of our resurgent manufacturing economy and our growing independence from foreign oil.  By building cars and trucks that go farther on a gallon of gas, we're creating jobs here in the U.S., saving money at the gas pump, and cutting our dependence on foreign oil. 
The Department's Advanced Technology Vehicles Manufacturing (ATVM) loan program played a key role in this resurgence.  Now we're doing our part to help the auto industry step on the gas by once again issuing new loans to help boost domestic manufacturing and create U.S. jobs.
Between 2009 and 2011, the Department's Loan Programs Office (LPO) issued more than $8 billion in ATVM loans to help a U.S. auto manufacturing industry that was struggling along with the rest of the economy. Our economy has picked up and thanks in part to ATVM loans, so has the auto industry. To date, ATVM loans have resulted in the manufacture of more than 4 million fuel-efficient advanced vehicles, supported approximately 35,000 direct jobs, and saved more than 900 million gallons of gasoline.
You can see the positive results of the ATVM program on the road every day.
The best-selling pickup truck in America, the Ford F-150, now comes with an efficient yet powerful EcoBoost™ engine. Nissan builds the Leaf, America's best-selling electric vehicle, right here in America. And Tesla's Model S was awarded Consumer Reports' Best Overall Vehicle for 2015.
The successes in LPO's portfolio highlight a growing auto industry that is demanding more components to meet future fuel economy standards.
Component suppliers and automotive manufacturers want to grow to meet rising consumer demand for fuel-efficient vehicles and are reaching out to the ATVM program as a source to help finance that expansion.
Less than a year after Secretary Moniz announced several improvements to the ATVM program, today we announced a conditional commitment to provide our first new loan since 2011.
The $259 million loan to aluminum manufacturer Alcoa, Inc. would support the company's Alcoa, Tennessee, manufacturing facility, where the company will produce high-strength aluminum sheet for North American automakers looking to lightweight their vehicles.   This automotive-grade aluminum sheet will help boost fuel economy by reducing vehicle weight. And Tennessee's emerging automotive sector will continue to grow with the addition of 200 full-time jobs.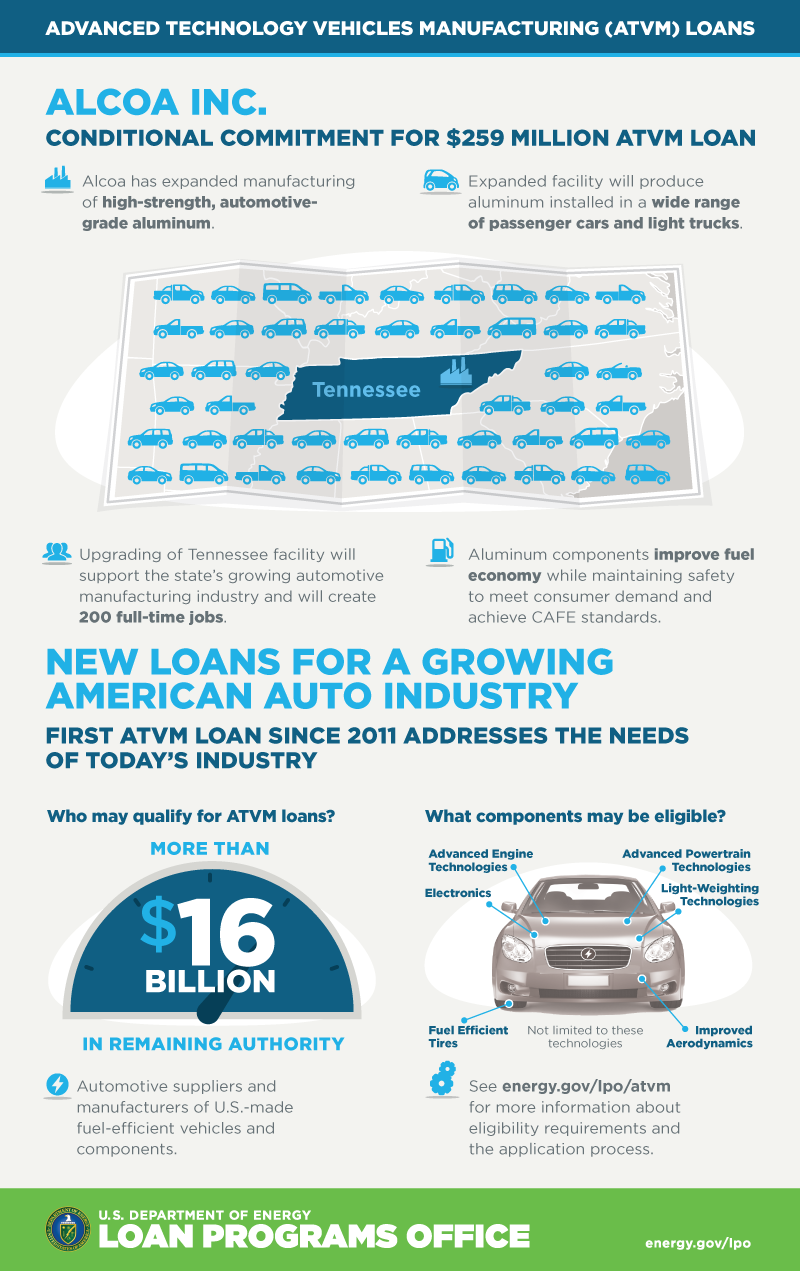 Alcoa is one example of how the industry's continued growth is increasing demand for the components used in advanced technology vehicles.
These include light-weighting technologies, advanced powertrain technologies, advanced engine technologies, electronics and fuel-efficient tires. Many component suppliers like Alcoa want to expand their operations to meet this increased demand and need access to cost-competitive capital, and the ATVM program was created to provide just that.
With more than $16 billion in remaining ATVM loan authority, LPO can help launch a robust, domestic supply chain for advanced technology vehicles. If all conditions are met and the loan is issued, we think this could be just the first in a new series of loans that help boost domestic manufacturing, create U.S. jobs, and move the auto industry forward.