You are here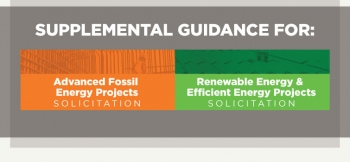 This afternoon, Secretary Moniz made two announcements at the Climate and Clean Energy Investment Forum in Washington, DC about ways in which the Loan Programs Office (LPO) will continue its efforts to finance innovative clean energy technologies.
The first announcement was related to the $1 billion of additional loan guarantee authority that President Obama announced in August. The 45-day congressional notification period required for allocating this money has concluded and with the supplemental guidance posted on LPO's website today, that loan guarantee authority is now available for applicants. The supplemental guidance for the Advanced Fossil Energy Projects solicitation adds $500 million, raising the total available to up to $8.5 billion. The supplemental guidance for the Renewable Energy and Efficient Energy (REEE) Projects solicitation also adds $500 million, raising the total to approximately $4.5 billion ($3 billion in loan guarantee authority, plus an additional amount that can be imputed based on the availability of an appropriation for the credit subsidy cost of such imputed loan guarantee authority. The amount of total loan guarantee authority available pursuant to the Solicitation will depend on credit subsidy rates.).
At that same event in August, the President made a separate announcement to clarify that Distributed Energy Projects are eligible for loan guarantees under the Advanced Fossil Energy and REEE solicitations. Distributed energy projects are driving innovation in U.S. energy markets and the announcement clarified the types of projects and financial structures that LPO could support under its existing solicitations. 
We have been very pleased about the positive response we have received following this announcements and the overall pipeline of projects that have applied to date. That is why the Secretary also announced today that the supplemental guidances issued today by LPO also add new rounds of Part I and Part II application deadlines for the Advanced Fossil and REEE solicitations that extend well into 2016.
Upcoming Part I Application Deadlines
11/18/2015
12/30/2015
1/13/2016
3/16/2016
5/18/2016
7/13/2016
Upcoming Part II Application Deadlines
12/16/2015
2/17/2016
4/13/2016
6/15/2016
8/17/2016
10/19/2016
We hope these announcements continue to encourage innovative clean energy projects to apply for Title XVII loan guarantees and we look forward to doing more deals in the future.