Akwesasne Housing Authority Execs Lead Effort To Sustain Future Generations
In traditional Iroquois society, women were the keepers of culture. Following in the footsteps of Skywoman, the hero at the center of their creation story, they sowed and tended the seeds, dancing in the direction of the sun to sustain the cycle of life.
For the modern-day Saint Regis Mohawk Tribe, which is part of the Haudenosaunee1 Confederacy, preserving culture requires procuring power. Fostering green growth and community resilience through clean, affordable solar energy, women are leading the charge.
The Saint Regis Mohawk Tribe is situated along the St. Lawrence River, straddling an artificially imposed line between Quebec, Ontario, and the northernmost reaches of upstate New York. Although tribal members cross the border freely here, power does not. 
As a result, those who live on the Canadian side enjoy the benefits of Quebec's low electricity rates, while their neighbors across the bridge struggle with some of the highest rates in the 48 contiguous states.2 Replacing fossil-fuel-based electricity from the local utility with renewable energy from the sun falls within the wheelhouse of the Akwesasne Housing Authority (AHA).
Women Plant the Seeds
Energy is essential to life in this community whose culture is tightly intertwined with the Akwesasne Nation's ancestral lands along the St. Lawrence River. Ensuring tribal members can remain there—strong, prosperous, and resilient in the face of longstanding energy, economic, and environmental challenges that threaten their way of life—is core to Liz Jacobs' mission as the Executive Director of AHA. 
It's also in keeping with the deeply ingrained leadership role of women in Mohawk society. 
"Our traditional government is a matriarchal government," said Jacobs. "The men are the chiefs and women are the clan mothers. It's the women that make the decisions and the men represent us. We are the seed planters. We are the bringers up of the children. . . . We are the future."
It's in that spirit that Jacobs, working shoulder-to-shoulder with Finance Director Kayla Herne, leads AHA's ongoing push toward a clean energy future. Working in alignment with the Tribe, they are leading a sustained, mission-driven effort to protect vulnerable community members and educate future generations.
AHA Leads by Example To Cultivate Green Growth
Jacobs and Herne are tending the seeds planted more than a decade ago, when AHA spearheaded a green expansion of the Sunrise Acres elder housing complex. The project added 20 new ultra-efficient homes for low-income seniors. Equipped with solar PV, geothermal heat pumps, solar water heating, and energy efficient design features, the units used 60% less energy and cut utility bills in half. 
Buoyed by the Sunrise Acres success, AHA and the Tribe sought technical assistance through the U.S. Department of Energy (DOE) Office of Indian Energy to develop a strategic energy plan in 2015. That same year, AHA applied for a $1.5-million DOE grant on behalf of the Tribe. The resulting award supplemented AHA's $1.9 million investment in a 2016 project to advance two strategic initiatives: Net Zero and Go Solar.
The Net Zero initiative aims to serve as a model for tribal buildings that produce as much energy as they use. It will cut AHA's annual energy costs by about $36,000 by installing energy efficiency measures and solar photovoltaic (PV) systems at the existing Boys' and Girls' Club building and the new Sunrise Green Development for veterans and elders.
The Go Solar net-metering initiative consists of:
A 615-kilowatt community-scale solar farm that serves 159 tribal housing buildings, offsetting their energy use and saving AHA more than $25,000 per year. 
A subscription-based program that provides utility-bill credits for community-generated solar and will reduce energy costs for subscribers by an estimated $4.4 million over the life of the project.
Reaching these milestones has further elevated the profile of AHA's artfully designed 17-acre complex built on maintained grasslands adjacent to a wetland.
It's really eye-opening what we're doing. When you enter the units, they are energy efficient—economically built, but with sustainable materials. We just have a beautiful, beautiful complex. And that's rubbing off on the community. That's how we lead by example.
Liz Jacobs
Executive Director of AHA
COVID Compounds a Crisis, Creates an Opportunity
Hoping to use AHA's high-profile success as springboard, Jacobs and Herne were determined to bring the benefits of going solar home to the elders, veterans, and other vulnerable tribal members.
Many were caught up in a riptide of "perpetual arears" enabled by lax utility collection practices—exclusive to the Reservation—and up to 20-year payback terms, Jacobs explained. Drowning in debt, some fell prey to energy service companies (ESCOs) touting solar savings. "As a kneejerk reaction, people signed on" to agreements that cut their monthly electricity bills initially, but rates "slowly ticked up." 
Yet AHA's subscription-based solar credits went largely ignored. The net-metering program faced a hurdle of hesitancy borne of deep-seated mistrust and skepticism.
And then COVID hit. 
By the time the Tribe's tight COVID-19 restrictions were relaxed in spring 2021, people were knocking on AHA's door seeking assistance with back rent and utilities. Jacobs and Herne jumped at the opportunity to help them cancel their ESCO contracts and benefit from the net-metering agreement AHA had forged with the local utility, National Grid.
"Most people did not know you could call and have your service changed back to National Grid as a provider. They assumed there was a cost associated," said Herne, noting how crucial one-on-one contact was in disabusing people of that notion—and educating them on their options. 
Herne recalled one situation where an elder was paying almost three times the National Grid service rate under an ESCO contract. "Once this was brought to the elder's attention and explained, he was able to switch providers and, because of the bill credits he receives through our GO Solar Program, save even more money."
"It's just about community awareness," said Jacobs. "We got our initial 15 [subscribers], and after those first 15 successes, the next 15 came quickly. We're getting calls all day, every day now."
'We Want To Be Steeped in Our Culture'
As members of the AHA executive team, Herne and Jacobs draw inspiration from the opportunity to help people stay in their homes and sustain their way of life. Along with procuring power, both see empowering people as pivotal to their role as modern-day keepers of culture.
"We're teaching our people about self-sufficiency and financial literacy," Jacobs said. "People are staying here because we want to be steeped in our culture. It's in our DNA; it's in our cellular being that we be here. Resiliency to me is overcoming all of those issues that are pushing us away. After hundreds of years, we're still here."
 
1 Iroquois is a French/Huran derogatory term meaning "snake." Even though the Mohawks embraced this term and even made it a term of respect or fear, they prefer Haudenosaunee (people of the longhouse) or Kanien'kéha (people of the flint) or onhkwehonwe (original people).
2 The average annual cost for electricity from National Grid is $0.27/kilowatt-hour. The rate is almost 2.5 times more when service and delivery fees are added.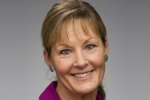 Karen Petersen
Karen Petersen is a communications strategist at the National Renewable Energy Laboratory's Communications & Public Affairs Office.
more by this author