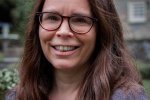 Dr. Jennifer Wilcox
Biography for Jennifer Wilcox, Principal Deputy Assistant Secretary for Fossil Energy and Carbon Management
more by this author
Thank you, and hello everyone. I'm happy to join you today. I want to thank BES for organizing and hosting this discussion, and for providing me the opportunity to say a few words.
I also want to thank all of you for joining us this afternoon.
Today we have a shrinking window of opportunity to expand the scope of technologies needed to manage carbon emissions and combat climate change.


 
We're taking this challenge seriously at the Department of Energy. So seriously that you might have noticed we recently changed the name of our Office to include Carbon Management in our title.
 
This name change reflects the fact that we've refocused our R&D priorities significantly to center our work on climate and carbon management.
 
We're striving to align our efforts to further advance the Biden-Harris Administration's mission to cut emissions by 50% from 2005 levels by 2030, produce 100% clean electricity by 2035, and ultimately reach a net-zero U.S. carbon economy by 2050.
This mission – and the work needed to achieve it – is more urgent than ever.


 
Ultimately, to achieve net-zero carbon emissions targets, we'll need to capture CO2 on the order of gigatons.  And, of course, that means we must reduce emissions from the power and industrial sectors – and carbon capture, coupled to  safe and reliable storage – or CCS – is indispensable to doing that.
 

And FECM has been a leader in CCS R&D for decades.


 

We've historically invested a great deal of time and resources in CCS, with most of our investments targeted largely toward application on coal-fired power plants. 


 
But as we work toward net zero, we're leveraging those investments and the work we've done to expand carbon capture into the natural gas power sector space and in industrial sectors like hydrogen production, and cement and steel production.
 
But CCS alone isn't a blanket solution. Climate models make it clear that both carbon dioxide removal and decarbonization will be needed to meet climate goals –and that's where our direct air capture R&D efforts are playing an important role.
 
we're leveraging a lot of the work we've been doing on CCS to help advance direct air capture.
 
Moving these technologies is a priority for the Administration and the Department.  In fact, our budget request for next year is asking for a 60% increase in federal investment in research and development for carbon capture, storage, conversion, and removal – up to $368 million in 2022.
 
That represents an unprecedented department-wide commitment – not just in terms of funding but also in terms of focus.  And that focus requires concerted collaboration among offices across DOE to advance these solutions. 
 

So, I'd like to take a few minutes to highlight some of those critical cross-department partnerships.


 
First – carbon management, which includes efforts associated with both – capture at point sources to prevent emissions into the atmosphere – in addition to capture of CO2 from the accumulated pool of legacy emissions in the atmosphere – each must be coupled to dedicated and reliable storage in order to prevent re-release of CO2.    
 
When it comes to carbon management, our focus is on Improved collaboration and knowledge-sharing across the Department – to pool the resources and expertise in each of our offices to develop, demonstrate, and deploy these technologies at scale. 
 
That includes coordinated Funding Opportunity Announcements and shared reviews on carbon capture and carbon dioxide removal technologies.
 
For example, FECM is working with EERE's geothermal technology office in addition to Nuclear Energy on an upcoming FOA that will assist in the scale-up of direct air capture, but coupling to available heat resources from existing low-carbon utilities. In addition, we've contributed to the development of EERE's Advanced Manufacturing Office's Industrial Decarbonization Roadmap.
 
FECM – along with BES, the Biological and Environmental Research program, and BETO – is also co-funding a follow up study at the National Academies of Sciences, Engineering, and Medicine on Carbon Utilization Infrastructure, Markets, Research and Development.
 
And we're leading and coordinating with EERE, the Office of Science, and ARPA-E – as well as other Federal agencies – on a CDR task force report.
 
The Task Force will estimate the magnitude of excess CO2 in the atmosphere that will need to be removed by 2050 to achieve net-zero emissions and stabilize the climate.  The report will also inventory and evaluate current and emerging approaches for CDR, and identify policy tools that the Federal Government can use to advance the deployment of carbon dioxide removal projects.
 
At the same time, secure and reliable CO2 storage is critical to helping us meet our climate goals.  And we have a robust R&D portfolio in the carbon storage space to improve storage and operational efficiency, as well as strengthen our understanding of overall cost and de-risking strategies to reduce these costs. 
 
We're also working with our partners across the Department to advance carbon storage.
 

For example, our storage reservoir characterization R&D facilitates broader carbon management and removal by enabling deployment of approaches like biomass systems with carbon removal – and we're coordinating our research with the Office of Science's geoscience efforts in that area.


 
We've also joined EERE's Geothermal Technologies Office to co-fund a self-healing cement that PNNL is working on.
 

The R&D-100-Award-winning self-healing cement combines select polymers with conventional cement to produce a cement composite that heals itself within one day of when cracks occur.


 

And it will be field-tested for its durability and scalability for use in geothermal well environments, while also building off an existing Laboratory Directed Research and Development to develop self-healing cements at lower temperature carbon storage conditions.


 
We're also working with five other DOE offices on the Artificial Intelligence Intra-Agency Coordination Team for Subsurface R&D –or IACT-Subsurface – where we're leveraging artificial intelligence and machine learning approaches to more efficiently locate, predict, extract, protect, or optimize resources or signals in the subsurface.
 
Finally, I want to turn for a moment to hydrogen.
 
FECM and NETL – along with our partners – are pursuing approaches and technology pathways to evaluate the fossil energy sector's role in the hydrogen transition and to get us where we need to be.
 
Our hydrogen efforts are part of a broader DOE-wide strategy to realize hydrogen's potential for a clean net-zero carbon economy – a strategy that includes the DOE Hydrogen Energy Shot, which establishes a framework and foundation for clean hydrogen deployment.
 
And here again, we're collaborating with our DOE partners.  For instance, we and EERE are co-funding hyblend sensor development at Argonne National Lab and we're exploring joint FOAs on a number of hydrogen topics.
 
We're also joint Executive Committee representatives to the International Energy Agency Hydrogen Technology Collaboration Programme, and we work together in other international engagements on hydrogen.
 
And we're working with ARPA-E, the Office of Science, and EERE on development and implementation of the Plastics Innovation Challenge Roadmap.
 

So, we're pursuing some exciting pathways, approaches, and cross-department collaboration to advance CCUS and carbon removal technologies – and to advance a hydrogen economy. 

I know we'll have an opportunity to discuss these efforts in more detail later in the program, so I want to thank you again for joining us.  And I look forward to our discussion.