You are here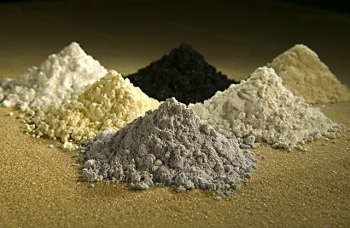 A team of researchers led by experts from the Department of Energy (DOE) has found that rare earth elements (REEs) can be removed from two U.S. coal byproduct materials through an ion-exchange process.  This discovery could potentially expand the U.S. domestic resource base of these critical elements.
The findings, published in a peer-reviewed paper titled "A Study on Removal of Rare Earth Elements from U.S. Coal Byproducts by Ion Exchange," also indicate that removal of REEs through an ion-exchange process can offer significant cost and environmental advantages compared with extraction from conventional ores.
REEs have a number of important applications in the energy and technology sectors. They are used in hybrid vehicles, wind turbines, fluorescent lights, catalysts, and consumer products such as computer hard drives and mobile phones.
But producing REEs can be extremely challenging, and the U.S. remains heavily dependent on REE imports.  REEs are commonly produced from ores that are difficult to break down in order to extract the elements. This extraction can be energy intensive, requiring temperatures of over 500 degrees Fahrenheit and exposure to concentrated acids – a process known as roasting. There are also emissions concerns, including CO2 emissions, associated with roasting.
A smaller portion of REE production, largely in China, involves a process known as "ion-exchange," which rinses the ore at ambient temperature with a solution. The REEs in this type of ore are adsorbed onto a clay surface, and are removed into the solution.  The DOE-led research team has found that, for two coal byproducts associated with a coal bed in Pennsylvania, REEs can be removed with an ammonium sulfate solution that is used commercially for REE recovery outside the U.S.
These findings – the result of a collaboration between DOE's Office of Fossil Energy and National Energy Technology Laboratory, and Penn State's College of Earth and Mineral Sciences – appear this month in Metallurgical and Materials Transactions E, published by ASM International and The Minerals, Metals and Materials Society.