Savings Project: Attic Stairs Cover Box
You are here
Project Level:
EASY (KIT OR PRE-BUILT) TO MODERATE (DO-IT-YOURSELF)
Energy Savings:
Savings depend on energy cost and airtightness of new cover box. Can be significant if there are open gaps in existing stair hatch.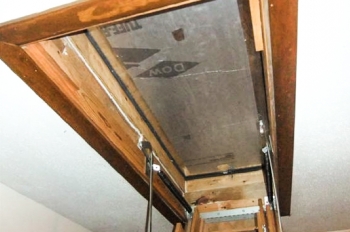 Sealing gaps in the opening and installing an insulating cover box on your attic stairs access can improve comfort and save energy and money. | Photo courtesy of U.S. Department of Energy's Weatherization Assistance Program.
In many homes, poorly insulated and leaky attic access stairs provide an opportunity to improve comfort and save energy and money. You can air seal and insulate the attic stairs opening by building your own insulated cover box or purchasing a kit or pre-built box. Treat the attic stairs access as you would an opening to the outdoors. Regardless of the type of insulation you use for your attic access, it is important to thoroughly air seal the opening.
To optimize savings and comfort, the attic stairs cover box must:
Be durable enough to withstand repeated openings and closings
Have an R-value similar to the rest of the attic insulation
Provide an air seal.
Before You Start:
Before beginning, take the time to:
Decide whether you're comfortable taking on the job of designing and building your own attic stairs cover box
Measure the opening to determine the materials you need to do the job yourself or the required size of a kit or pre-built cover box
Research commercially available options with the above requirements in mind if you decide to purchase a pre-built box or a kit.
Shopping List:
If you do the job yourself, you will need:
Rigid foam board
Faced blanket insulation
House wrap to cover the blanket insulation
Duct mastic or construction adhesive, nails or screws, and/or tape appropriate for the foam board you choose
Tape measure
Means of cutting insulation (saw for rigid foam, utility knife for blanket, for example).
Silicone or acrylic latex caulk and caulk gun for sealing small gaps (1/4 inch or smaller)
Spray foam insulation for filling larger gaps (1/4 inch to 3 inches)
Plywood or lumber to serve as insulation dam
STEP-BY-STEP INSTRUCTIONS