Safe packaging and transportation of materials is critical to the success of DOE operations. Annually, DOE transports about 5,000 shipments including radioactive, hazardous, and non-hazardous materials. Located within EM, the Office of Packaging & Transportation (OPT) supports field sites in achieving safe transportation through development and management of policy, oversight programs, automated tools, and collaborative forums. These programs and tools are available to the entire DOE complex.
Office of Packaging and Transportation Fiscal Year Highlights
Office of Packaging and Transportation Fiscal Year Highlights
Packaging Certification Program
The Atomic Energy Act of 1954, as amended, gives DOE broad authorities to regulate all aspects of activities involving radioactive materials that are undertaken by DOE or on its behalf, including transportation.  OPT manages the program for the packaging certification of Type B and fissile material packaging which conform with U.S. Department of Transportation and U.S. Nuclear Regulatory Commission requirements. For additional information about the DOE Packaging Certification Program, visit the Radioactive Material Packaging (RAMPAC) website. The program includes the following:
providing guidance for preparing Safety Analysis Reports for Packaging;
reviewing and approving packaging designs;
issuing DOE Certificates of Compliance;
reviewing and recertifying Certificates of Compliance;
curtailing and suspending the use of specific packages, when warranted; and
reviewing and approving quality assurance programs for Type B and fissile materials radioactive materials packaging.
The Packaging Certification Program conducts routine training for radioactive packaging activities related to Safety Analysis Report for Packagings preparation and packaging quality assurance, maintenance and operations.
(Note that these tools require account access and are generally limited to DOE users, contractors, and certain stakeholders.)
The Automated Transportation Logistics and Analysis System is a web-based freight management system allowing users to manage inbound and outbound shipments by highway, rail, and air.
Permits registered users to access software used in packaging and transportation determinations.
The Transportation Routing Analysis GIS allows users to analyze potential routes for shipment of hazardous materials including nuclear material and spent nuclear fuel. It is compatible with the NRC's RADTRAN software for performing population risk assessments and accident dosing models.
An unclassified tracking and communication system which can monitor the progress of various "high visibility" shipments. 
SAFE TRANSPORTATION OF RADIOLOGICAL SHIPMENTS
National Transportation Stakeholders Forum (NTSF) 
Collaboration and coordination with jurisdictions along the transportation corridors is key in accomplishing the EM cleanup mission. The purpose of the NTSF is to bring transparency, openness, and accountability to DOE's offsite transportation activities through collaboration with state and tribal governments. NTSF members may obtain additional information at the NTSF website.
Transportation Emergency Preparedness Program (TEPP)
TEPP provides the tools for planning, training and exercises, and technical assistance to assist state and Tribal authorities in preparing for response to a transportation incident involving DOE shipments of radioactive material. For more information including class schedule, please visit the TEPP website.
Oversight and Support Programs
Motor Carrier Evaluation Program (MCEP)
OPT manages and implements the DOE MCEP in accordance with DOE Order 460.2.  MCEP maintains and monitors a list of evaluated motor carriers from which DOE/NNSA field offices and contractors select to ship their radioactive materials and hazardous wastes.
Transportation Compliance Assessment Program (TCAP)
In accordance with DOE Order 460.2, Departmental Materials Transportation and Packaging Management, DOE sites must evaluate contractors/subcontractor transportation and packaging operations at each facility every three years. TCAP provides a framework for accomplishing these evaluations.
Transportation Management Council (TMC) and Packaging Management Council (PMC)
OPT serves as federal sponsor and advisor for DOE's TMC and PMC. Membership is made up of DOE and NNSA federal and contractor personnel involved in transportation and packaging operations. TMC provides a forum to address challenges and best practices in shipping operations and transportation safety activities. PMC provides a similar forum for DOE packaging activities.
Any comments, questions, or concerns related to DOE packaging and transportation programs may be sent to askpat@hq.doe.gov. DOE's Office of Packaging and Transportation actively monitors this mailbox and will respond to all inquiries as soon as possible.
Packaging & Transportation News
VIEW ALL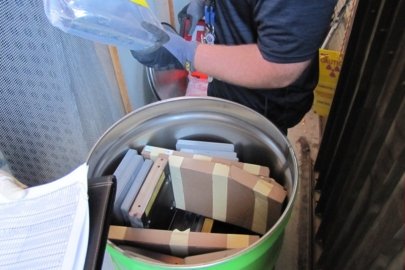 EM Sites Team Up to Conduct Virtual Waste Inspection
May 11, 2021
Two EM programs recently collaborated to enhance an established radioactive waste inspection process, allowing for continued safe, secure, and compliant waste shipments from one DOE site to another.
Learn more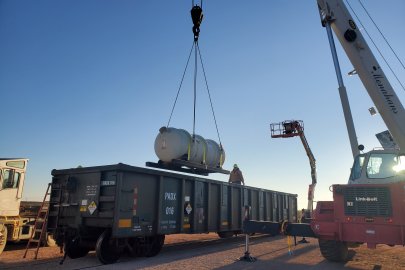 Milestone Reached as First Shipment of Uranium Oxide Reaches Final Disposition
November 3, 2020
The first shipment of depleted uranium oxide (DUO) product recently left the Paducah Site in Kentucky and safely reached its final destination.
Learn more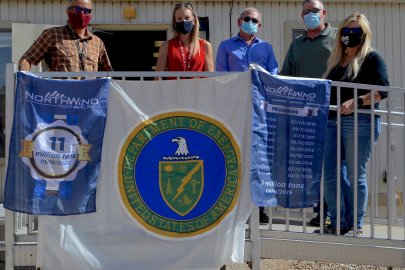 Moab Marks Milestone of Moving 11 Million Tons of Mill Tailings for Disposal
October 20, 2020
EM's Moab Uranium Mill Tailings Remedial Action (UMTRA) Project achieved an EM 2020 priority on Oct. 19.
Learn more
Innovation Accelerates Cleanup, Reduces Cost, Enhances Safety
October 13, 2020
From a more efficient approach for disposing debris to a digital-based monitoring system that helps detect and prevent heat stress.
Learn more