You are here
This is an excerpt from the Fourth Quarter 2011 edition of the Wind Program R&D Newsletter.
Since opening its doors for business in May, the Wind Technology Testing Center (WTTC), in Boston, Massachusetts, has come up to full speed testing the long wind turbine blades produced for today's larger wind turbines.  Constructed with a combination of Department of Energy (DOE) funding from the American Recovery and Reinvestment Act and the state of Massachusetts, the WTTC is the first test facility in the world with the ability to test blades up to 90 m in length. The facility's high bay features three test stands and 100 tons of overhead bridge crane capacity to provide industry partners with the latest wind turbine blade testing and prototype development methodologies, blade repair, and workforce training.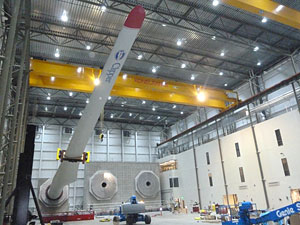 In October, the WTTC completed its first commercial static test applied in four directions (max flap, max edge, min flap, and min edge) to a multimegawatt-size blade manufactured in the United States. Next, the blade will undergo a full modal survey followed by a several million cycle flap and edge fatigue test. A final set of post-fatigue static tests will complete the test program for this commercial blade.
Meanwhile, the WTTC team is starting the instrumentation of a second commercial multimegawatt-size blade for static testing. This advanced technology blade, designed for use on a 2- to 3-MW wind turbine, is about 50 meters long. The WTTC will begin the static testing on this second blade in early December while the first blade continues fatigue testing on an adjacent test stand.