Imagine decreasing energy bills, reducing operational costs, increasing worker productivity, putting an end to the great "cold/hot office" debate, and helping the grid become more resilient – all at the same time. What building owner or operator wouldn't want to take advantage of such an opportunity?
New research from Purdue University's Center for High Performance Buildings and global real estate firm Jones Lang LaSalle found that enabling individual control over office lighting and temperature resulted in employees that performed better on cognitive tests, were more satisfied, and reduced their energy use from lighting systems thanks to increased daylighting. The intersection of occupant comfort, productivity, and energy reduction is no secret, and striving for this trifecta through the application of advanced building control systems has for some time been an important component of BTO's strategy for reducing energy consumption in commercial buildings. In his inaugural entry for the Buildings and the Grid 101 blog series, however, David Nemtzow presented BTO's vision for using connected building technologies, data, and tools to also go a step further: to not only manage conditions inside buildings, but to allow buildings to provide benefits to the broader electricity grid.
BTO is currently working through the Smart Energy Analytics Campaign and the Better Buildings Alliance to help innovative businesses searching for these grid-interactive smart building solutions reduce utility costs and meet social responsibility and sustainability goals. However, there are still significant barriers to the realization of BTO's vision for grid-interactive efficient buildings (GEB). Here are few of keys ones.
Challenge 1: Cost
For commercial building owners and operators, building energy management systems (BEMS) have long been the central controller for building operations, optimizing HVAC, lighting, and other energy-consuming systems. As Jack Mayernik discussed, however, BEMS today are not widespread throughout the commercial building sector; according to the U.S. Energy Information Administration, under 40% of all commercial buildings report utilizing such a system, with the majority of installations occurring in large commercial buildings. BEMS are quite cost-effective, but they also typically benefit from an economy of scale; this means that all but the largest commercial buildings may be reluctant to make the upfront investment.
Thanks to increasing connectivity, however, the cost of sensors, data storage, and connected devices is falling, opening new doors for commercial building owners, managers, and tenants who want to optimize their energy performance. A 2014 report by BI Intelligence found a 50% decline in the average cost of Internet-of-Things sensors since 2004 – with another 50% decline forecast by 2020 – and a recent report from Deloitte Center for Financial Services suggests that sensor deployment in support of connected devices and systems could grow at an annual rate of almost 80%.
Challenge 2: Data
Once a building installs connected devices, this doesn't mean the building is automatically optimized – building managers need to be able to track, understand, and utilize the data generated by these sensors and connected devices and systems.
Energy analytics coupled with connected building components can turn big data into accessible, user-friendly actions that help businesses control and optimize operations. However, much improvement is needed (1) to reduce the time and complexity of integration so that costs are within thresholds for more building types and sizes, (2) in data quality and standardization so that providers can tap into component-level information and aggregate grid interactions across many buildings, and (3) to expand building data streams across all end uses – or even to targeted, but yet-to-be identified, building components – so that load prediction, optimization, and anytime control do not compromise building comfort and other services.
Today, BTO is working to help the commercial building sector study how BEMS identify best practices for leveraging meter data and sensing information and producing innovative energy visualizations. Combined, these capabilities allow building and facility managers to detect and diagnose faults (the building equivalent of a check-engine light) and improve building energy performance. Based on year one data from 15 organizations participating in the Smart Energy Analytics Campaign, we have tracked $10.4 million in annual cost savings – with 5% average energy savings per building – from implementation of building energy management and information systems, resulting in a simple payback of less than one year.
Challenge 3: Ensure a Solid Foundation to Work From
Before we can optimize a building's performance with an energy management information system or with the cutting-edge grid interactions being pursued as part of BTO's grid-interactive efficient buildings vision, there is still significant work to be done to ensure buildings have equipment and systems that function as originally designed (i.e., properly installed and maintained). We also need to better understand what emerging technologies are currently available that optimize behind-the-meter loads, and whose performance and impact on both the building and grid is known.
Fortunately, BTO has for years worked to validate the energy performance of targeted high-impact technologies, support research to reach zero energy buildings, and help develop the commercial buildings workforce of tomorrow, which can help ensure that today's buildings – and the buildings of the future – operate optimally. BTO, in partnership with the General Services Administration, also recently released a request for information (RFI) on innovative, pre-commercial or early commercial building technologies, and respondents to this RFI may be invited to conduct field validation to provide impartial, results-oriented data on how well individual technologies function in the field that is key to informing wider purchasing decisions within the sector.
Read more in the Grid-Interactive Efficient Buildings article series.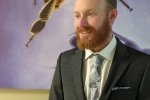 Sam Petty
Sam Petty is a management and program analyst within BTO's Commercial Buildings Integration program. His work at BTO focuses on the Efficient and Healthy Schools, along with programmatic support for embodied carbon research and for the HVAC&R subprogram.
more by this author