You are here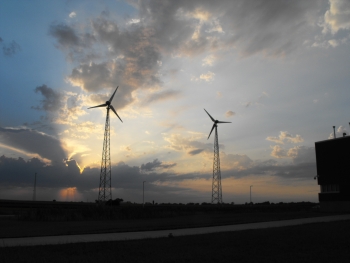 Homeowners who install small wind turbines similar to these can qualify for tax credits. | Photo courtesy of Wind Utility Consulting
Installing small, distributed wind energy systems can help homeowners and businesses save money on their energy bills.  Now that tax filing season is here, there are even more ways to financially benefit from this sustainable source of energy. The Internal Revenue Service (IRS) has recently published a notice establishing certification requirements that small wind turbine owners must meet to qualify for the 30% investment tax credit (ITC).
For wind turbine owners to qualify for this tax credit under the new ITC performance and quality guidance, wind turbines rated at 100 kilowatts of capacity or less must meet certain certification standards, which are defined by the American Wind Energy Association or the International Electrotechnical Commission. The IRS certification guidance applies to qualifying small wind energy systems that are purchased or operational after January 26, 2015.
These product certification and quality assurance requirements establish a high set of standards for the distributed wind industry, and assist consumers in making informed purchasing decisions. In addition, they help ensure that public funds are spent on distributed wind systems tested for performance, safety, function, and durability. Consequently, the Energy Department's Wind Program encourages public-sector organizations to only spend funds on certified small and medium wind turbines.
To support these efforts, the Energy Department's Wind Program invests in the development of voluntary technical standards, regional turbine test centers, and project-based certification testing for small and medium wind turbines so that manufacturers can better communicate safety and performance information about their turbines to consumers. This also allows consumers to accurately compare the wide variety of products available and make more informed decisions. For example, the Program supports a Competitiveness Improvement Project (CIP) that helps U.S. manufacturers achieve certification and lower their small- and medium-sized turbines' cost of energy—building U.S. leadership in distributed wind markets. The Program plans to support additional CIP efforts in Fiscal Year 2015, targeting projects that address component- and whole-system optimization, manufacturing process upgrades, and turbine certification testing.
With the help of such funding and technical support, the distributed wind industry has made significant strides in obtaining certifications for small- and medium-sized  turbine models. Suppliers of distributed wind turbines have completed the certification process for more than a dozen models since 2010, and more are underway. Check out this list by maintained by the Interstate Renewable Energy Council to find out which wind turbines are fully certified in the U.S. market.
Watch a recent webinar that featured representatives from the Wind Program and the IRS to learn more about the new ITC guidance, and read about the Wind Program's testing and certification activities on the Wind Program website.