You are here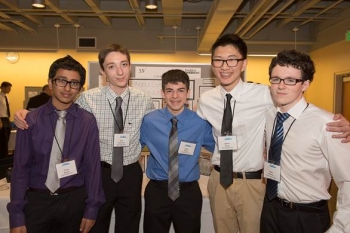 Imagine Tomorrow participants Pavan Kumar (from left), Isaak Nanneman, Ethan Perrin, Andrew Wang and Oisin Doherty were selected by the Bioenergy Technologies Office to present their idea at the Biomass 2014 conference next month. The student team from Redmond, Washington, was chosen for their idea on how to help the nation transition to renewable forms of energy using cellulosic ethanol. | Energy Department photo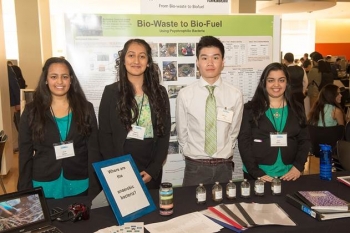 Jyoti Bodas (from left), Simreet Dhatiwal, Honson Ling and Aarti Bodas from Thomas Jefferson High School in Lakeland North, Washington, were named alternate selections to present at the Biomass 2014 for their idea on converting bio-waste to bio-fuel. | Energy Department photo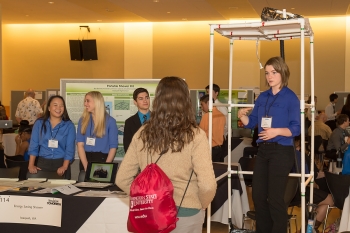 A student team from Issaquah, Washington, demonstrate their idea for an energy-saving shower at the Imagine Tomorrow competition last month. | Energy Department photo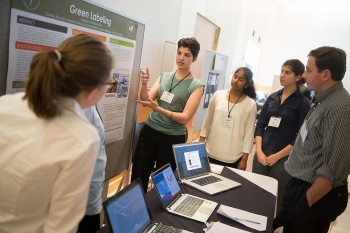 A student participating in the Imagine Tomorrow competition explains her team's idea for green labeling. | Energy Department photo
The best solutions always start with great ideas. To encourage the nation's future leaders to generate creative, well-researched ideas that solve complex energy challenges, Washington State University recently hosted the Imagine Tomorrow competition, which brought together high school student teams throughout the western U.S.
As part of the competition, the Bioenergy Technologies Office (BETO) selected a student team from STEM High School of Redmond, Washington, to present their idea at the Biomass 2014 conference, which is taking place July 29 to July 30 in Washington, D.C.  The conference will provide these students with the opportunity to interact with policy leaders, research and development experts, and industry representatives from all across the bioenergy supply chain. The team was selected for their idea on how to help the nation transition to renewable forms of energy using cellulosic ethanol. 
Here are a few innovative ideas from student teams who participated in Imagine Tomorrow:     
Assessing the feasibility of non-traditional feedstocks for bioenergy products such as hops,
Using bioluminescence to lower the amount of energy required during algae production,
Using DNA-assessment technologies to increase lipid extraction from algae, 
Genetically modifying yeast to make cellulosic ethanol production more cost-effective and efficient.
BETO's involvement in the Imagine Tomorrow competition is part of the Office's overall Operation #BioEnergizeMe initiative, which engages the nation's future clean energy workforce  to discover how bioenergy technologies can slash carbon pollution and strengthen the economy. Learn more BETO's work.