[Editor's note: As published in the Wall Street Journal. Read the full opinion piece here.]
When President Trump ended U.S. participation in the Iran nuclear deal, he promised tough sanctions on the Iranian regime. On Monday our administration will deliver exactly that, reimposing sanctions on more than 700 people and entities in Iran's energy, shipping and financial sectors. 
The president has made clear that the U.S. supports the Iranian people's aspirations for freedom and prosperity. He firmly opposes Tehran's efforts to dash those aspirations—and to menace the world by developing ballistic missiles, launching cyberattacks, and funding terrorist proxies to destabilize the Middle East and beyond.
The new sanctions will deliver an unmistakable message to Tehran: Change your ways or suffer the consequences.
The Obama administration's deal with Iran failed to curb Tehran's egregious misconduct and ensure the safety of the American people. As the Trump administration exerts maximum pressure on the regime to reach a new deal, Iran's energy sector is a natural target for sanctions. Iranian leaders use oil money to line their own pockets and fund destructive foreign adventurism rather than address their people's needs. 
The new sanctions will hit Iran's energy sector hard. But thanks to anticipatory actions taken by the world's leading producers, including the U.S., to make up the difference, there should be minimal effect on global energy markets. 
Iran's oil exports began to plummet months ago as the seriousness of U.S. policy became apparent. From 2.7 million barrels a day in June, Iran's oil and condensate exports fell to less than two million barrels a day in September.
In response, major oil suppliers such as Saudi Arabia, Russia and Iraq have increased production. So has the U.S., which became the world's No. 1 oil producer in August. The U.S. Energy Information Administration expects global oil supply to meet demand in 2019 even without Iranian oil. 
The U.S. has powered its energy renaissance with a cascade of innovation. America now produces more energy than anyone would have thought possible a few years ago. Between August 2017 and August 2018, U.S. crude oil production increased by 2.1 million barrels a day, the largest year-on-year increase in U.S. history.
And it only gets better: Crude-oil exports are expected nearly to double by 2020. When infrastructure projects in West Texas' Permian Basin come online late next year, production will expand further. New cross-border pipelines will help Mexico and Canada increase their supply as well.
The U.S. is rising to world energy leadership at precisely the moment its abundance is most needed. America's new energy bounty gives us leverage to hold Iran accountable as never before. While entities that flout our sanctions will face the full weight of U.S. economic power, those jurisdictions on a clear path to zero Iranian imports may be granted temporary exemptions to allow time to comply fully.
Empowered by its new energy arsenal that can free the world from reliance on Iranian oil, the U.S. will apply relentless pressure on Tehran until its leaders alter their destructive behavior and return to the negotiating table. Until then, the Iranian regime must remain isolated from the global economy. The international community eagerly awaits the participation of an Iran prepared to abide by basic norms of international conduct.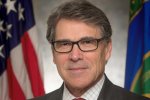 Rick Perry
Rick Perry served as the 14th United States Secretary of Energy.Rick Perry served as the 14th United States Secretary of Energy.
more by this author