You are here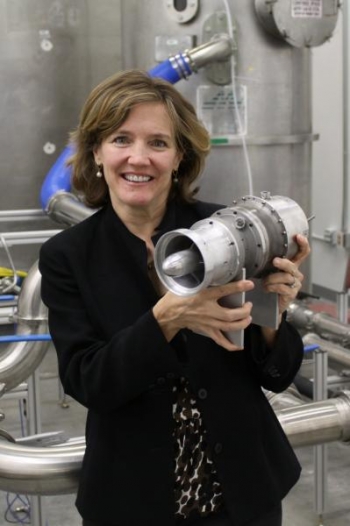 Shirley Coates Brostmeyer holds FTT's twin-spool turbofan, the most efficient micro-turbine of its size | credit Frank Serio
In honor of Women's History Month, we've brought you the stories of several women in the energy and science industries -- past, present and future. This week we spoke with Shirley Coates Brostmeyer, co-founder, CEO and owner of Florida Turbine Technologies, to find out what it takes to run a large engineering company.
Florida Turbine Technologies, Inc (FTT) designs, develops, manufactures and tests turbine engine components and systems. The woman-owned company is developing innovative approaches to improve the efficiency, durability and affordability of industrial power plants, military and commercial aircraft engines, and rocket turbopumps -- and has grown to more than 200 employees in 12 years.
We talked with Shirley about FTT's turbomachinery products and their connection to the Department of Energy. "All of FTT's products rely on turbomachinery to produce power," she told us. "Combustion is integral to the gas turbine cycle used in industrial power plants and aircraft propulsion, and FTT is developing new methods for reducing emissions and improving the efficiency of the combustion process in order to meet our nation's environmental goals."
In order to help meet those goals, FTT is using a technology called the Low Swirl Burner (LSB) that was developed in the Department of Energy's Lawrence Berkeley National Laboratory (LBNL). The LSB helps achieve emissions reductions for distributed power plants, an asset to many of FTT's customers. "Through our partnerships with the national labs, we can better serve our customers and stay abreast of these technologies and advance these technologies toward product development," Shirley said.
FTT has worked with the Department for several years, starting with a Small Business Innovative Research grant in 2004 to develop a method for testing advanced turbine materials in a real combustion environment. Since then, FTT has actively pursued technology advancements to increase the efficiency of energy-producing plants, as well as aerospace propulsion products, by working with the National Energy Technology Laboratory (NETL) as well as other government agencies such as NASA and the Department of Defense. FTT's numerous government partnerships eventually led to Shirley's 2009 testimony to the House Select Committee on Energy Independence and Global Warming -- titled "Turbine Efficiency Improvements for Existing Power Plants - How Technology Can Revolutionize Efficiency."
"FTT is continually seeking innovative technology," says Shirley, "and we work with the national labs to help transfer the technology from the lab to marketplace." Currently, the LSB technology lowers nitrogen oxides (NOx) emissions from the combustion process, which will decrease the formation of ground-level ozone and fine particle pollution, including a number of damaging effects on the respiratory system. LBNL has successfully demonstrated this technology in the lab, and FTT is designing products that use this technology to deliver the most efficient and environmentally friendly power products. Shirley says the LSB technology shows great promise in FTT's applications, and they expect the technology to open up product improvement opportunities for higher performance with lower emissions, a huge step for improving air quality.
Before Shirley became a game-changing engineer and successful business owner, she was helping her father work on his car and took an interest in learning the inner-workings of household appliances -- actually tearing some of them apart. She says it was her love of math and an interest in learning "how things work" that were her two biggest factors in pursuing engineering as a career. "My mother especially encouraged me to pursue a field that would allow me to be self-sufficient," she added.
She advises other young engineers interested in a career in STEM industries to pursue a specific technical discipline until they acquire some depth of understanding in that area. But the road to the top isn't easy: Shirley says she worked her way up other engineering companies such as General Electric and ABB in Switzerland at a time when women were not as prevalent in top positions as they are now.
As for the next generation of women business leaders, Shirley advises they "focus on quality, hire exceptional and innovative individuals who are passionate about the work, and be relentless in pursuing excellence."
We couldn't agree more!