Over the last century, America's coal and power plant communities leaned on geology, geography, ambition and entrepreneurial spirit to power the country and our growing economy. Those same features now position them to play key roles in new, clean energy industries.
I've seen that promise while traveling across the country to places like Kayenta, Ariz., where a solar facility now produces enough electricity to power 36,000 homes in the surrounding Navajo lands. Kayenta's Navajo community was once reliant on a coal mine and generating station operated by companies in which residents lacked any real stake.
Today, this community can draw both clean energy and revenues from the tribally-owned solar facility. President Joe Biden believes that other coal and power plant communities across the country are equipped to follow similar paths.
These communities have infrastructure ready-made for new energy generation opportunities like clean hydrogen, small-scale nuclear and long-term energy storage. Some feature mine lands suited for rare earth elements or critical mineral extraction underground, wells that could be used to harness geothermal energy and surface areas for new businesses or clean energy projects.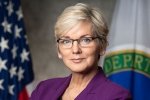 Jennifer M. Granholm
Jennifer Granholm is the 16th U.S. Energy Secretary, the second woman in history to lead the Department of Energy. She is leading Departmental priorities to combat the climate crisis, create clean energy jobs, and promote energy justice.
more by this author