This is BIG! Last year, U.S. energy imports were at their lowest levels in decades as energy exports shattered records. That's welcome news for America's economy.
According to the U.S. Energy Information Administration, total net energy imports to the United States fell to 7.3 quadrillion British thermal units (quads) in 2017, a 35 percent decrease from 2016 and the lowest level since 1982.  In addition, gross energy exports rose to 18.0 quadrillion Btu in 2017, the most ever recorded! 
Go to EIA.gov to read the full report and learn more about our efforts to advance fossil energy in the United States.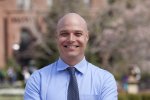 Paul Lester
Paul Lester is a Digital Content Specialist in the Office of Public Affairs. Paul was born in Ohio but spent most of his life in Florida, where he worked as news researcher/archivist and online editor for the Orlando Sentinel.
more by this author