1. A Dozen Teams Will Be There
These 12 university teams from across the United States and Puerto Rico are participating:
Returning from 2016:
And Welcoming:
2. To Win It All, You Need to Be Well Rounded
The Collegiate Wind Competition consists of four main contests: Business Plan, Technical Design, Siting Knowledge, and Turbine Testing. Tasks include written reports, oral presentations, testing model turbines in a wind tunnel, and a public business pitch before a panel of wind industry experts. Teams can earn up to 1,000 combined points, and the team with the highest point total will be crowned Collegiate Wind Competition champions. There are also awards for teams that score the highest in each contest, win the bonus competition, or are picked as the overall "People's Choice" winner based on text voting at the event.
3. It's Not Just for Engineers
America's wind industry currently supports more than 100,000 jobs including researchers, engineers, educators, transportation workers, salespeople and other positions. Similarly, students participating in the Collegiate Wind Competition are seeking degrees in science and engineering as well as disciplines like business and marketing--all essential in building a thriving energy workforce.
4. Each Team Is Solving Big Problems
Each team participating in the Collegiate Wind Competition aims to solve complex energy and environmental problems through their wind turbine designs and business plans. These include well-researched solutions such as using wind energy to provide emergency or backup power, desalinate water for coastal communities, and generate electricity for communities in developing countries.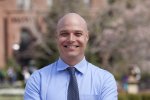 Paul Lester
Paul Lester is a Digital Content Specialist in the Office of Public Affairs. Paul was born in Ohio but spent most of his life in Florida, where he worked as news researcher/archivist and online editor for the Orlando Sentinel.
more by this author