"There's a lot of potential. We have to believe we're going to make it. We just need help."
Those were the words of June Tracy, an Alaska Native Elder from Nondalton, Alaska. Nondalton is a rural village on the western shore of Six Mile Lake, an hour flight outside Anchorage. June Tracy, with the help of other community members, prepared lunch for Director Erin Whitney of the Arctic Energy Office, Director Evelyn Wang of the Advanced Research Projects-Energy (ARPA-E), and Department of Energy staff, sharing a slice of their daily life in Nondalton over traditional subsistence foods including dried fish, berries, fresh biscuits, moose stew, and fish chowder after a tour of the village.
June is one of Nondalton's 130 residents, 22 of whom are children in the village's school that runs from PreK through High School. The residents are tight-knit, supporting each other with the demands of living in rural Alaska, where their winter temperatures can easily dip into the negative 40s. The summers are filled with subsistence activities - fishing in the turquoise-hued waters nearby, hunting, trapping, and picking wild berries to get ready for the winter.
The village's electricity is supplied by Iliamna Newhalen Nondalton Electric, a small hydropower co-operative funded by Nondalton and two other communities. Nondalton is still paying off their investment two decades later. The village residents rely on propane for their Toyostove heaters, and gas for their ATVs, boats, and snowmachines. The City of Nondalton sells gas and propane to the residents for about $7 a gallon at the crumbling Town Hall building, where foundation issues and moisture have been chipping away at the frequently-used structure.
Eye-Opening
ARPA-E's Director Wang, former Head of the Department of Mechanical Engineering at MIT, found the visit eye-opening. "We have to continue to innovate. Hearing your perspectives helps us address challenges together," she shared with the Nondalton Tribal Council President, Tribal Council Vice President, Tribal Administrator, as well as the President and CEO, Board Members, and staff from the Kijik Corporation, which is the Alaska Native Corporation for the village. "We're in the position where we would love to help find solutions that are fitting and sustainable for your community."
The Village ran out of oil and gas a couple years ago, and residents had to drive snowmachines across the frozen lake to buy fuel from their neighboring communities. Now they have a backup generator on site that can power the entire community, and a vision to explore wind, solar, and energy efficiency measures through Department of Energy free Technical Assistance, offered to Tribes and Native Corporations through the Office of Indian Energy Policy and Programs.  
Kijik Corporation, who which owns 126,000 acres of surface estate including the land encompassing the village of Nondalton, Six Mile Lake, and Lake Clark. CEO Emily Davenport worked with the Arctic Energy Office to set up this visit. She emphasized that Nondalton residents face significant barriers due to a lack of resources, geographical remoteness of the village, and the high cost to live in rural Alaska. 
"This place is the source of their history, their culture. Their homes, their community shouldn't have to be at risk," Davenport said regarding the topic of outmigration, a serious issue facing Alaska Native people and the difficult choice to stay, or relocate from their villages to urban areas due to economic and environmental threats facing many rural communities in Alaska. "But residents have to make hard decisions weighing the cost of energy and everyday expenses needed to live in rural Alaska: do I put gas in my boat, or heat my home, or buy bullets for my gun for hunting... we need to preserve culture and a subsistence way of life." Kijik Corporation hopes it can invest in energy resources that improve the way of life for people in Nondalton and also provide an economic opportunities to the corporation, which is tasked with managing land and resources for the benefit of its 526 shareholders, the residents on their land. 
Barriers to federal assistance for communities like Nondalton can include the pre-planning and expertise needed to apply for funding, any cost-match requirements, and a lack of the data and analytics needed for determining what energy solutions can be the best fit for the village's unique needs.  
Fawn Silas, the Tribal Council Administrator for the Village of Nondalton, along with the City and Kijik Corporation, are the key stakeholders Davenport said, that help this village thrive. As Rick Delkittle Sr., a Nondalton resident who spoke from his fish camp said, "We have to continue to find new ways to stay sustainable."  
They want to make the village flourish again, and in this beautiful lake-side community, it's not hard to see how this place is so deeply connected to the culture and tradition of the Dena'ina people and their resilience to preserve their homeland.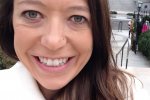 AnneMarie Horowitz
AnneMarie Horowitz has been with the Energy Department since 2010 and is the Acting Communications Director for the Arctic Energy Office.
more by this author