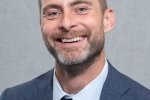 Alejandro Moreno
Alejandro Moreno is the Associate Principal Deputy Assistant Secretary for the Office of Energy Efficiency and Renewable Energy
more by this author
As Energy Awareness Month draws to a close, I have been reflecting with pride on our recent surge in progress toward our country's climate and energy goals. Here at the Office of Energy Efficiency and Renewable Energy (EERE), we just surpassed $1 billion in clean energy investments since January 2021—an achievement made possible by both the dedication of our staff and a rapidly changing budgetary and statutory environment.  
The passage of the Bipartisan Infrastructure Law in November 2021 injected $62 billion into new and existing U.S. Department of Energy (DOE) programs, supporting a variety of initiatives in manufacturing, housing, clean energy, and power-grid resilience. In June 2022, President Biden invoked the Defense Production Act to grant DOE unprecedented authority to expand the domestic production of five technologies that will be indispensable to the clean energy transition, including electrolyzers, transformers, and solar power. Finally, in August 2022, a landmark year reached its climax with the passage of the CHIPS and Science Act and the Inflation Reduction Act. 
Taken together, these new laws and executive actions represent the biggest change in the clean energy landscape I've seen in my career. They put our country firmly on a path towards the widespread use of renewable energy, sustainable transportation, and the decarbonization of industries and buildings across the country. Less than one year ago, the prospect of an American energy system dominated by profitable clean energy generation and supported by a revitalized manufacturing base seemed far more distant. Today, we're watching the foundations of this system fall into place. We're also beginning to see a path to our ultimate goal of net-zero carbon emissions by 2050. 
DOE estimates that the clean energy provisions of the Inflation Reduction Act and the Bipartisan Infrastructure Law together will reduce annual emissions by approximately 1,150 million metric tons in 2030, an amount roughly equal to the combined annual emissions from every home in the United States. This would represent a 40% reduction in domestic emissions relative to 2005 levels—the most substantial cut to pollution in American history.  
The Inflation Reduction Act will help us reach this milestone through a complex web of commercial tax incentives, consumer rebates, research grants, and domestic economic stimulus. These measures include: 
The 10-year extension and expansion of tax credits for clean power, providing the certainty of investment needed to dramatically accelerate clean energy development 
Tax credits of up to $7,500 and $4,000 for purchasers of new and used electric vehicles, respectively  
Consumer tax credits and rebates for energy-efficient home upgrades, such as heat pumps, rooftop solar, and insulation 
A $2 billion investment in cutting-edge research and development projects at the U.S. National Laboratories 
Grants and tax credits to reduce emissions from industrial manufacturing processes, including almost $6 billion for a new program targeting the largest industrial emitters, such as chemical, steel and cement plants 
Over $9 billion for federal procurement of American-made, clean technologies to create a stable market for these products.
These are just a portion of the groundbreaking provisions in the Inflation Reduction Act, which, together with those in the Bipartisan Infrastructure Law, represent an investment of more than $430 billion in the modernization of the American energy economy. As a result, DOE is better positioned to fund the innovation, research, and technology demonstration required to wean this country off fossil fuels than at any point in its 45-year history. We are truly in uncharted territory. 
An economy-wide transformation on this scale will once again position the United States as a global leader in the fight against climate change—and put us back on track to achieve our 2050 goal. EERE will play a major role in the implementation of this sweeping program, in partnership with industry, organized labor, consumers, and state, local, and tribal governments. 
Energy Awareness Month, which we observe each October, will come and go 27 more times before we reach the midcentury tipping point. Today, I'm more confident than ever in our ability to harness this country's ingenuity and immense financial resources to meet our commitments under the Paris Climate Agreement and achieve net-zero carbon emissions by 2050—thanks in large part to the towering achievements of the last twelve months. I hope you'll join me in taking a step back to admire the promise of what we see in front of us—but only for a moment—before we all get back to work turning that promise into reality.