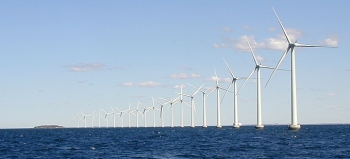 EERE plays a key role in advancing America's "all of the above" energy strategy, leading a large network of researchers and other partners to deliver innovative technologies that will make renewable electricity generation cost-competitive with traditional sources of energy.
The U.S. Department of Energy (DOE) leads national efforts to improve the performance, lower the costs, and accelerate the deployment of wind energy technologies—both on land and offshore. DOE is linked to more patents in wind energy than any other organization, and those innovations helped the installed U.S. wind energy capacity to increase nearly 16-fold between 2000 and 2010. Today's wind industry supports 75,000 U.S. jobs, including workers at more than 400 manufacturing plants in 44 states.
The Wind Program, part of the Wind and Water Power Technologies Office, works to enable rapid expansion of clean, affordable, and reliable domestic wind power to promote national security, economic vitality, and environmental quality.
EERE'S WORK IN WIND ENERGY