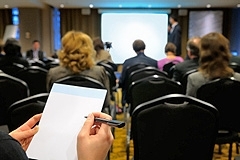 The Department of Energy's (DOE) Building America program hosts open meetings and webinars for industry partners and stakeholders that provide a forum to exchange information about various aspects of residential building research.
Upcoming Meetings
There are no Building America meetings scheduled at this time. Please subscribe to Building America news and updates to receive notification of future meetings.
Past Technical and Stakeholder Meetings
Current Webinars
The Building America program announces the launch of its 2014 webinar series! Each month's free webinar will offer information about the latest advances in residential building technologies and practices, presented by Building America research team experts.
High Performance Enclosure Strategies: Part II, New Construction
Date/Time:  August 13, 2014; 3:00-4:30 PM EDT
Description: The webinar is the second in the series on designing and constructing high performance building enclosures, and will focus on effective strategies to address moisture and thermal needs.
Presenters include:
• Peter Baker, Building Science Corporation, will discuss results of 3 years of laboratory and field exposure testing that examined the development of the system deflection resistance capacity and long-term movement of assemblies in exposed outdoor environments. The results have been used to help validate and develop system attachment guidelines for various cladding assemblies.
• Vladimir Kochkin, Partnership for Home Innovation, will focus on three new opportunities for advanced framing practices, including: continuous drywall at interior partitions; rim header; and high heel truss attachment. These new approaches have been engineered and tested by the Home Innovation Research Labs in order to improve thermal performance of the building enclosure, reduce the cost of energy-efficient construction, and simplify the construction process, all while accommodating higher levels of insulation. The presentation will include lessons learned from field applications..
• Lois Arena, Consortium for Advanced Residential Buildings, will discuss the challenge of moisture problems within the building shell that can be caused by excess interior moisture, bulk water intrusion, capillary action from concrete to wood connections, and through wetted building materials such as siding from rain splash back. Results of WUFI modeling and actual data collected from monitored high-R wall assembles will be presented, along with recommendations for best practices.
Reserve your seat now! After registering, you will receive a confirmation email containing information on how to join the webinar.
Past Webinars
Retrofitting Central Space Conditioning Strategies for Multifamily Buildings
The webinar, held on July 16, 2014, focused on improving the performance of central space conditioning systems in multifamily buildings. Presenters discussed hydronic heating strategies and the evaluation of thermostatically controlled radiator valves (TRVs). View the presentations.
Who's Successfully Doing Deep Energy Retrofits?
The webinar, held on June 25, 2014, focused on specific Building America projects that highlight real-world examples of deep energy retrofits (DER) that are meeting with technical and market success. Presenters focused on technical strategies, modeled and actual performance results, and project costs. View the presentations.
High Performance Building Enclosures: Part I, Existing Homes
This webinar, held on May 21, 2014, focused on specific Building America projects that have implemented technical solutions to retrofit building enclosures to reduce energy use and improve durability. View the presentations.
Building Energy Optimization Tool (BEopt) Training
This webinar, held on May 15, 2014, provided an overview of BEopt (Building Energy Optimization) tool, and focused on opportunities for builders to improve their home designs by finding the best efficiency measures for their climate and costs. View the presentation.
Opportunities in Large Data Collection and Analysis
This webinar, held on April 16, 2014,  focused on specific Building America projects that are looking to gather and analyze large bodies of data on new and existing homes, and featured opportunities for industry to collaborate with researchers to gather and analyze valuable data. View the presentations and the recorded webinar.
Standardized Retrofit Packages — What Works to Meet Consistent Levels of Performance?
This webinar, held on March 19, 2014, focused on specific Building America projects that have examined methods to consistently meet high levels of energy performance in existing homes, with a focus on retrofit packages that can be replicated across many homes. View the presentation slides and the recorded webinar.
View other past webinars focused on residential energy efficiency on the webinar archives page.
Expert Meetings
Building America hosts several expert meetings each year on a variety of building energy efficiency topics, which are presented by research team members. This page provides links to past expert meetings proceedings, including presentations and related documents.
Keep current with upcoming events and news by subscribing to Building America updates.