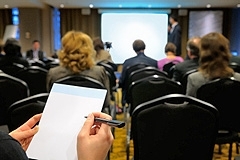 The Department of Energy's (DOE) Building America program hosts open meetings and webinars for industry partners and stakeholders that provide a forum to exchange information about various aspects of residential building research.
The Building America program continues its webinar series into 2016! Each free webinar will offer information about the latest advances in residential building technologies and practices, presented by Building America research team and national laboratory experts.
Advanced Technical Solutions for Zero Energy Ready Homes: Renewable Integration
Time: November 16, 2016, 3-4:30 p.m. EST
As the innovative and visionary "House of the Future," Zero Energy Ready Homes will eventually require that renewable energy generation systems such as photovoltaic (PV) systems be integrated to make them resilient, flexible, and interactive with their environment. This Building America webinar presents a review of the costs and performance of residential building-integrated PV, as well as some of their unique installation considerations and code requirements. The presenter for this webinar will be Tim Merrigan with the National Renewable Energy Laboratory.
Stump the Building Chump: Joe Lstiburek
Time: November 29, 2016, 3-4 p.m. EST
This new webinar series from the DOE Building America Program challenges professionals in the residential construction industry to ask building science questions that stump the building science experts! We want to know what problems are most vexing to you and your teams. It's our program goal to help provide solutions – or develop them where they don't already exist.
Our first expert is Dr. Joe Lstiburek, the founding principal of Building Science Corporation. Can you stump more than 30 years of industry expertise?
Submit your questions to building.america@ee.doe.gov. We will feature the best questions during a webinar with our experts where they will answer your questions, and provide resources to help you solve the toughest building science challenges.
Your questions should be clear and concise, and should focus on challenges related to the building science of achieving high levels of energy performance in new and/or existing homes.
View other past webinars focused on residential energy efficiency on the webinar archives page.
There are no Building America meetings scheduled at this time. Please subscribe to Building America news and updates to receive notification of future meetings.
Building America hosts several expert meetings each year on a variety of building energy efficiency topics, which are presented by research team members. This page provides links to past expert meetings proceedings, including presentations and related documents.
Keep current with upcoming events and news by subscribing to Building America updates.