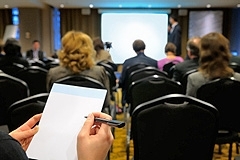 The Department of Energy's (DOE) Building America program hosts open meetings and webinars for industry partners and stakeholders that provide a forum to exchange information about various aspects of residential building research.
There are no Building America meetings scheduled at this time. Please subscribe to Building America news and updates to receive notification of future meetings.
The Building America program continues its webinar series into 2015! Each month's free webinar will offer information about the latest advances in residential building technologies and practices, presented by Building America research team and national laboratory experts.
Put New Tools and Content on the Building America Solution Center To Work for You!
Date: July 22, 2015; 3:00–4:30 p.m. EST
The Building America Solution Center is known for its easy-to-follow, illustrated, step-by-step guides for installing the measures that make up high-performance homes. A number of updates have been implemented that offer exciting new tools and content that builders and industry professionals can put to work immediately. Tune in to this webinar to hear about the latest Solution Center improvements, including:
The launch of a new sales tool that will help builders and sales professionals best describe the house features that make their products unique and of higher value to consumers. This feature also allows users to customize sales brochures with their company information.
Expanded information on topics that serve existing homes along with a new set of navigation features that help users easily find guides on these topics.
A new checklist manager to help builders who want to label their homes as U.S. Environmental Protection Agency Indoor airPlus.  The checklist leads to expanded content on finding and using low-polluting products and practices.
Presenters for this webinar will include staff from Pacific Northwest National Laboratory. View the presentation.
The presentations will be followed by an interactive Q&A session. Questions? Contact: Heather Stafford.
View other past webinars focused on residential energy efficiency on the webinar archives page.
Building America hosts several expert meetings each year on a variety of building energy efficiency topics, which are presented by research team members. This page provides links to past expert meetings proceedings, including presentations and related documents.
Keep current with upcoming events and news by subscribing to Building America updates.