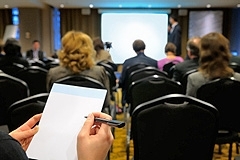 The Department of Energy's (DOE) Building America program hosts open meetings and webinars for industry partners and stakeholders that provide a forum to exchange information about various aspects of residential building research.
The Building America program continues its webinar series into 2016! Each free webinar will offer information about the latest advances in residential building technologies and practices, presented by Building America research team and national laboratory experts.
Advances In Manufactured Home Energy Efficient Design
April 27, 2016: 3:00 p.m.–4:30 p.m. ET
Making significant strides in energy performance in the affordable housing space is the Holy Grail for the research community. The work presented in this webinar is a collaborative endeavor by the ARIES Building America team and two major affordable housing providers: Habitat for Humanity International and the factory building industry. The effort is exploring options for making major reductions in space conditioning energy use (≥ 50%) while holding the line on home affordability. Specifically, the project will develop a high-performance integrated design—effectively combining an ultra-efficient thermal envelope, a very low capacity, highly efficient mechanical system, an innovative distribution system, and affordable heat recovery ventilation—and set in motion steps to rapidly move this innovation to market.
View other past webinars focused on residential energy efficiency on the webinar archives page.
There are no Building America meetings scheduled at this time. Please subscribe to Building America news and updates to receive notification of future meetings.
Building America hosts several expert meetings each year on a variety of building energy efficiency topics, which are presented by research team members. This page provides links to past expert meetings proceedings, including presentations and related documents.
Keep current with upcoming events and news by subscribing to Building America updates.