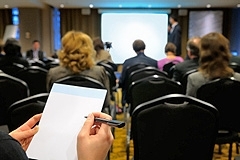 The Department of Energy's (DOE) Building America program hosts open meetings and webinars for industry partners and stakeholders that provide a forum to exchange information about various aspects of residential building research.
Upcoming Meetings
There are no Building America meetings scheduled at this time. Please subscribe to Building America news and updates to receive notification of future meetings.
Past Technical and Stakeholder Meetings
Current Webinars
The Building America program continues its webinar series into 2015! Each month's free webinar will offer information about the latest advances in residential building technologies and practices, presented by Building America research team experts.
Central Multifamily Water Heating Systems
Date/Time:  January 21, 2015; 3:00-4:30 PM EST
Description: Join us for a free webinar that will focus on the effective use of central heat pump water heaters (HPWHs) and control systems to reduce the energy use in hot water distribution.Presenters and specific topics for this webinar include:
• Elizabeth Weitzel, Alliance for Residential Building Innovation, presenting Multifamily Central Heat Pump Water Heating. The presentation will focus on the findings of an evaluation effort of a nominal 10.5 ton central HPWH installed at the UC Davis West Village Zero Net Energy community, which was monitored from October 2011 through February 2013. The unit is one of 45 similar HPWHs installed in student apartment buildings at West Village. Findings from the field monitoring were used to develop and validate a TRNSYS simulation to project performance in various climates. The monitoring provided useful information to the developer and installing contractors as they worked through early issues in implementing a technology new to them.
• Jordan Dentz and Eric Ansanelli, Advanced Residential Integrated Energy Solutions, presenting Control Strategies to Reduce Energy Consumption of Central Domestic Hot Water. Water heating is typically the second largest energy end use in U.S. buildings, exceeded only by space conditioning. Central domestic hot water (CDHW) systems are commonly used in multifamily buildings to provide domestic hot water. This presentation will summarize the results of a field study in which two types of CDHW controls—demand control and temperature modulation—were retrofit into four existing multifamily buildings in NewYork. Energy savings, cost savings, and resident satisfaction will be presented, including interactive effects with space conditioning systems.
Past Webinars
View other past webinars focused on residential energy efficiency on the webinar archives page.
Expert Meetings
Building America hosts several expert meetings each year on a variety of building energy efficiency topics, which are presented by research team members. This page provides links to past expert meetings proceedings, including presentations and related documents.
Keep current with upcoming events and news by subscribing to Building America updates.