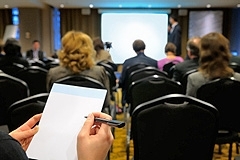 The Department of Energy's (DOE) Building America program hosts open meetings and webinars for industry partners and stakeholders that provide a forum to exchange information about various aspects of residential building research.
The Building America program continues its webinar series into 2016! Each month's free webinar will offer information about the latest advances in residential building technologies and practices, presented by Building America research team and national laboratory experts.
New Code Compliance Briefs Asisst in Resolving Codes and Standards Concerns in Energy Innovations
Date/Time: Feb. 24, 2016; 3:00-4:30 p.m. EST
The Building America Program is hosting a free webinar that will provide an overview of new Code Compliance Brief content on the Building America Solution Center. These briefs help builders understand and meet code requirements while helping code officials apply codes to new and emerging innovations. The Code Compliance Briefs provide code-related information about Building America's research, best practices, and new innovations to describe how the measures are in compliance with the latest code(s) and standards. The briefs provide notes for code officials on how to do plan reviews and conduct field inspections. These notes help builders and remodelers provide the information needed by code officials for proposed designs and gives jurisdictional officials clear references in code language to facilitate acceptance. Providing consistent information to all interested parties (e.g., code officials, builders, designers) results in increased compliance and fewer innovations being challenged at the time of plan review and/or field inspection. The Building America Solution Center is a free Web tool that describes best practices based on Building America research that can be applied to build, renovate, and sell efficient, comfortable, durable, and healthy homes.
View other past webinars focused on residential energy efficiency on the webinar archives page.
There are no Building America meetings scheduled at this time. Please subscribe to Building America news and updates to receive notification of future meetings.
Building America hosts several expert meetings each year on a variety of building energy efficiency topics, which are presented by research team members. This page provides links to past expert meetings proceedings, including presentations and related documents.
Keep current with upcoming events and news by subscribing to Building America updates.