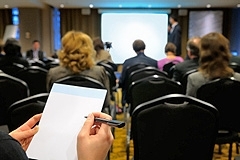 The Department of Energy's (DOE) Building America program hosts open meetings and webinars for industry partners and stakeholders that provide a forum to exchange information about various aspects of residential building research.
Upcoming Meetings
There are no Building America meetings scheduled at this time. Please subscribe to Building America news and updates to receive notification of future meetings.
Past Technical and Stakeholder Meetings
Current Webinars
The Building America program announces the launch of its 2014 webinar series! Each month's free webinar will offer information about the latest advances in residential building technologies and practices, presented by Building America research team experts.
High Performance Space Conditioning Systems, Part I
Date/Time:  October 23, 2014; 3:00-4:30 PM EDT
Description: The webinar will focus on strategies to improve the performance of HVAC systems for low load homes and home performance retrofits. Presenters and specific topics for this webinar will be:
• Andrew Poerschke, IBACOS, presenting HVAC for Low-load Homes and Thermal Comfort.  The presentation will focus on what is "simple" when it comes to space conditioning? Single Zone? Hydronic? Mini-split? As loads in houses (new and deep energy retrofit) are almost as low as the interest on a 2013 mortgage, what are some alternatives to a furnace and ducts? The discussion will also include how they maintain comfort, what will and won't work, and what should be discussed with clients looking for simple and potentially lower cost solutions to a single furnace and ducts to each room.
• Kohta Ueno, Building Science Corporation, presenting Long Term Performance of Mini-Splits in Cold Climate Housing. Kohta will discuss their research on ductless heat pumps versus mini-splits being used in high performance (high R value enclosure/low air leakage) houses, often configured as a simplified distribution system (one heat source per floor). Eight of these houses in Massachusetts (DOE Zone 5A) were monitored from 2011 through 2014; analysis of the monitored data will be presented. 
Past Webinars
Multifamily Ventilation Strategies and Compartmentalization Requirements
The webinar, held on Sept. 24, 2014, focused on key challenges in multifamily ventilation and strategies to address their challenges. View the presentations.
Low-E Storms: The Next Big Thing in Window Retrofits
The webinar, held on Sept. 9, 2014, focused on a new and improved low-e storm window that boasts a combination of curb appeal and energy efficiency, all for a fraction of the cost of window replacement. View the presentation and the recorded webinar. 
High Performance Enclosure Strategies: Part II, New Construction
The webinar, held on Aug. 13, 2014, was the second in the series on designing and constructing high performance building enclosures, and focused on effective strategies to address moisture and thermal needs. View the presentations and the recorded webinar. 
Retrofitting Central Space Conditioning Strategies for Multifamily Buildings
The webinar, held on July 16, 2014, focused on improving the performance of central space conditioning systems in multifamily buildings. Presenters discussed hydronic heating strategies and the evaluation of thermostatically controlled radiator valves (TRVs). View the presentations.
Who's Successfully Doing Deep Energy Retrofits?
The webinar, held on June 25, 2014, focused on specific Building America projects that highlight real-world examples of deep energy retrofits (DER) that are meeting with technical and market success. Presenters focused on technical strategies, modeled and actual performance results, and project costs. View the presentations and the recorded webinar.
High Performance Building Enclosures: Part I, Existing Homes
This webinar, held on May 21, 2014, focused on specific Building America projects that have implemented technical solutions to retrofit building enclosures to reduce energy use and improve durability. View the presentations and the recorded webinar. 
Building Energy Optimization Tool (BEopt) Training
This webinar, held on May 15, 2014, provided an overview of BEopt (Building Energy Optimization) tool, and focused on opportunities for builders to improve their home designs by finding the best efficiency measures for their climate and costs. View the presentation.
Opportunities in Large Data Collection and Analysis
This webinar, held on April 16, 2014,  focused on specific Building America projects that are looking to gather and analyze large bodies of data on new and existing homes, and featured opportunities for industry to collaborate with researchers to gather and analyze valuable data. View the presentations and the recorded webinar.
Standardized Retrofit Packages — What Works to Meet Consistent Levels of Performance?
This webinar, held on March 19, 2014, focused on specific Building America projects that have examined methods to consistently meet high levels of energy performance in existing homes, with a focus on retrofit packages that can be replicated across many homes. View the presentation slides and the recorded webinar.
View other past webinars focused on residential energy efficiency on the webinar archives page.
Expert Meetings
Building America hosts several expert meetings each year on a variety of building energy efficiency topics, which are presented by research team members. This page provides links to past expert meetings proceedings, including presentations and related documents.
Keep current with upcoming events and news by subscribing to Building America updates.