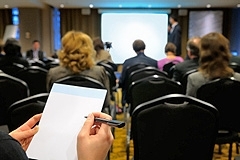 The Department of Energy's (DOE) Building America program hosts open meetings and webinars for industry partners and stakeholders that provide a forum to exchange information about various aspects of residential building research.
The Building America program continues its webinar series into 2016! Each free webinar will offer information about the latest advances in residential building technologies and practices, presented by Building America research team and national laboratory experts.
Are the Walls Closing In?
Time: June 28, 2016, 3-4 p.m. EST
New building products and new code requirements are coming to market by the hour. Although building science advice is prevalent, there are no perfect, "one-size-fits-all" answers for how to take that next step in high performance construction. In this presentation, we will talk about moisture performance of walls such as what we know, what we don't know, and the pros and cons of various water management strategies. Trends observed in recent field moisture studies will also be discussed. To assist in addressing these concerns and opportunities, the Building America Program is hosting a no-cost webinar that will discuss the goal to help you design a wall system that works best for you, your trades, and your customers. The presenter for this webinar will be Vladimir Kochkin, director of the Applied Engineering Group at Home Innovation Research Labs.
View other past webinars focused on residential energy efficiency on the webinar archives page.
There are no Building America meetings scheduled at this time. Please subscribe to Building America news and updates to receive notification of future meetings.
Building America hosts several expert meetings each year on a variety of building energy efficiency topics, which are presented by research team members. This page provides links to past expert meetings proceedings, including presentations and related documents.
Keep current with upcoming events and news by subscribing to Building America updates.