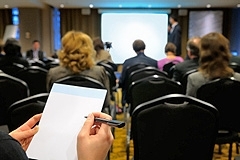 The Department of Energy's (DOE) Building America program hosts open meetings and webinars for industry partners and stakeholders that provide a forum to exchange information about various aspects of residential building research.
There are no Building America meetings scheduled at this time. Please subscribe to Building America news and updates to receive notification of future meetings.
The Building America program continues its webinar series into 2015! Each month's free webinar will offer information about the latest advances in residential building technologies and practices, presented by Building America research team and national laboratory experts.
Building America Technology-to-Market Roadmaps
Date/Time:  April 7, 2015; 3:00-4:30 PM EST
Description: Join us for a free webinar that will introduce the integrated Building America Technology-to-Market Roadmaps that will serve as a guide for Building America's research, development, and demonstration activities over the coming years and result in an integrated Building America Research-to-Market Plan in 2015. This webinar is intended to be an informative session to assist stakeholders in providing review and comment to the Request for Information that will be issued regarding these Roadmaps.
Our speaker will be Eric Werling, Building America Coordinator for the U.S. Department of Energy's Residential Buildings Integration Program. He will present important background information about the initial draft Roadmaps, the process used to develop the Roadmaps, and details for stakeholder review and comment.
View other past webinars focused on residential energy efficiency on the webinar archives page.
Building America hosts several expert meetings each year on a variety of building energy efficiency topics, which are presented by research team members. This page provides links to past expert meetings proceedings, including presentations and related documents.
Keep current with upcoming events and news by subscribing to Building America updates.