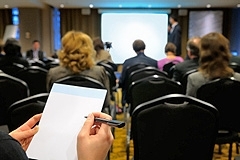 The Department of Energy's (DOE) Building America program hosts open meetings and webinars for industry partners and stakeholders that provide a forum to exchange information about various aspects of residential building research.
There are no Building America meetings scheduled at this time. Please subscribe to Building America news and updates to receive notification of future meetings.
The Building America program continues its webinar series into 2015! Each month's free webinar will offer information about the latest advances in residential building technologies and practices, presented by Building America research team and national laboratory experts.
High Performance Enclosure Strategies, Part II: Low-E Storm Windows and Window Attachments
Date/Time: October 28, 2015; 3:00-4:30 p.m. EST
The Building America Program is hosting a no-cost webinar that will discuss how window attachments and coverings, such as storm windows and cellular shades, can be a cost-effective means of reducing energy use in residential buildings.  This webinar will review some of the latest research in this area, including results from Pacific Northwest National Laboratory's controlled Lab Homes 2015 experiments examining interior low-e storm window inserts and cellular shades.  The webinar will also cover recent related activities by utilities, energy-efficiency programs and the recently launched Attachment Energy Rating Council (AERC).
Presenters for this webinar:
Katie Cort, Research Economist, Pacific Northwest National Laboratory
Joe Petersen, Research Engineer, Pacific Northwest National Laboratory
Tom Culp, Owner, Birch Point Consulting, LLC.
The presentations will be followed by an interactive Q&A session where participants will have an opportunity to submit questions via the webinar.
If you have any questions, please contact: Heather Stafford (heather@confluencec.com).
View other past webinars focused on residential energy efficiency on the webinar archives page.
Building America hosts several expert meetings each year on a variety of building energy efficiency topics, which are presented by research team members. This page provides links to past expert meetings proceedings, including presentations and related documents.
Keep current with upcoming events and news by subscribing to Building America updates.