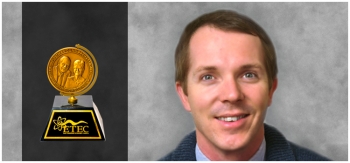 Colin Colverson, an Energy Department attorney in Oak Ridge, wins the prestigious Postma Young Professional Medal.
Last month, the East Tennessee Economic Council (ETEC) recognized Colin Colverson, an Energy Department attorney in Oak Ridge, with the prestigious Postma Young Professional Medal. The selection committee chooses an annual recipient for the award that displays elite community service and leadership qualities.
ETEC created the award to honor the accomplishments of young professionals who have made an impact and fostered a community culture in the East Tennessee region. It is named for former Oak Ridge National Laboratory Director Herman Postma, who epitomized a love and care for the Oak Ridge community during his life. The nomination criteria included community vision, business development, and/or involvement in local, state or federal programs.
Colin is an attorney within the Office of Chief Counsel. As a counselor, he provides guidance on regulatory and environmental law, and he works directly with peers at the U.S. Environmental Protection Agency and the Tennessee Department of Environment and Conservation to ensure the Energy Department adheres to agreements and regulations established between the three agencies for environmental cleanup. In addition, Colin is the site's project lead for helping the Energy Department and the Department of the Interior establish a potential framework for the proposed Manhattan Project National Park that involves Oak Ridge; Hanford, Washington; and Los Alamos, New Mexico.
Locally, Colin serves on the board of Big Brothers & Big Sisters, and he previously served on the Oak Ridge Young Professional's board. In addition, he was recently elected to the newly formed Land Bank Corporation that will help with planning and development for the area. He is also a representative on the Oak Ridge Beer Board, an organization that verifies local businesses comply with all appropriate laws for alcohol sales. 
However, not all of his community work is a solo affair. Sherith Colverson, Colin's wife, works with him as a youth leader at their church, and together they founded an annual charity dog walk to raise funds for the Oak Ridge animal shelter. In fact, both were selected for this year's Postma Young Professional award—the first time a couple has ever won. Sherith is the project lead for a homeless veteran's relief program, volunteers as a mediator with the Anderson County court system, and participates as a member of the city's parks and recreation board.
"It was quite a surprise and a tremendous honor to win this award with my wife," said Colin. "We are truly blessed to have the opportunity to serve this wonderful community, and are humbled by this recognition of our efforts."
This year's awards ceremony, which also included nominees and winners of other regional awards, was attended by Tennessee Governor Bill Haslam. In a statement ETEC said, "The Colversons have, individually and together, demonstrated a great commitment to excellence and the Oak Ridge community."
A son of wander-lust parents, Colin has lived in numerous cities and states throughout the United States, England, Honduras and Ecuador, and he says that the Oak Ridge community is as unique and promising as anywhere he has experienced.
"This community comes together in a unique and special way to support so many wonderful charities and causes, and has the potential to achieve even greater success in advancing the vision of a better, stronger Oak Ridge."
Colin is a great representation of what the Energy Department strives to achieve—a commitment to the community and a determination and willingness to help others. Together, the Department's employees in Oak Ridge are working to help improve the region and the country.