The U.S. Department of Energy (DOE) Solar Energy Technologies Office focuses on achieving the goals of the SunShot Initiative, which seeks to make solar energy cost-competitive with other forms of electricity by the end of the decade.
What We Do
SunShot funds cooperative research, development, demonstration, and deployment projects by private companies, universities, state and local governments, nonprofit organizations, and national laboratories to drive down the cost of solar electricity to $0.06 per kilowatt-hour or $1 per watt (not including incentives). We work to make it faster, easier, and more affordable for Americans to choose solar energy in their daily lives.
Five years into the Energy Department's decade-long SunShot Initiative, the solar industry is already more than 70% of the way to achieving SunShot's cost target. The On the Path to SunShot report series examines the lessons learned in the first five years of the initiative and the challenges and opportunities the industry faces in the final five.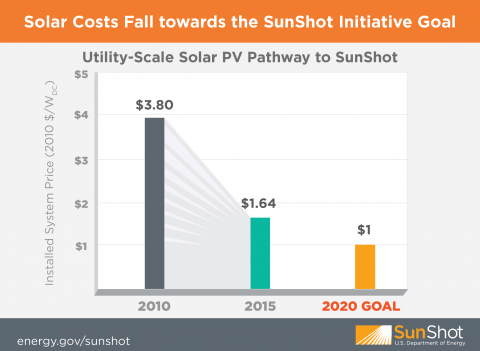 How We Work
The SunShot Initiative, announced in February 2011, is a program within the Office of Energy Efficiency and Renewable Energy at the U.S. Department of Energy. Our team works across five program areas: photovoltaics (PV), concentrating solar power (CSP), soft costs (or balance of systems costs), systems integration, and technology to market.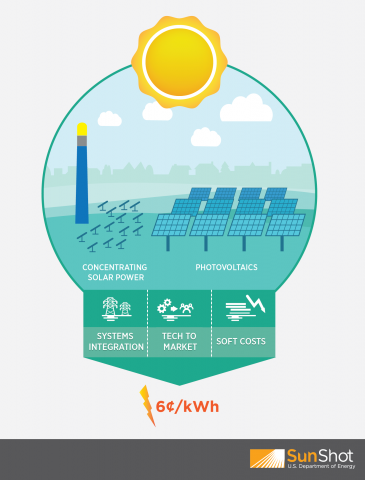 SunShot Success Stories
Today, as a result of DOE's SunShot Initiative investments and the industry's accelerated pace to meet the SunShot goal, solar-generated electricity is now price competitive with traditional energy sources in 14  states across the Unites States, including California, Hawaii, Texas, and Minnesota (with the Investment Tax Credit in place). Increased deployment of affordable and accessible of solar energy is growing quickly across the country. In 46 of America's 50 largest cities, a fully-financed, typically-sized solar PV system is a better investment than a typical stock market index fund. And in 42 of these cities, financing a residential solar PV system already costs less than purchasing electricity from a customer's local utility.
See more SunShot Success Stories.
Why It Matters
When the price of solar electricity reaches about $0.06 per kilowatt-hour, it will be cost-competitive with traditional sources of electricity. This will enable solar-generated power to grow from less than 2% of the nation's electricity generation portfolio to roughly 14% by 2030 and 27% by 2050, as projected in the SunShot Vision Study. The National Renewable Energy Laboratory recently released a report on the environmental benefits of solar, and estimated that achieving the SunShot goal could save an estimated $400 billion in health and environmental benefits by 2050. 
As recently as 1995, the United States maintained a dominant position in the solar marketplace, manufacturing 43% of the world's PV panels. The U.S. market share has steadily declined in recent years, shrinking to 27% by 2000 and to 7% by 2010. SunShot is helping to re-establish American technological and market leadership, improve the nation's energy independence, and strengthen U.S. economic competitiveness while fighting climate change.
A future in which the SunShot Initiative meets its goals will ultimately benefit every American by:
Making clean, low-cost, reliable solar energy available for home owners, communities, businesses, and government
Reducing emissions of greenhouse gases and other pollutants that contribute to climate change
Establishing U.S. clean leadership in clean energy
Creating U.S. jobs through domestic solar manufacturing and distribution.