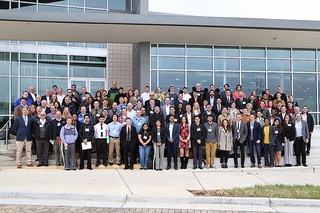 The U.S. Department of Energy (DOE) Building America program recognizes that the education of future design/construction industry professionals in solid building science principles is critical to widespread development of high performance homes that are energy efficient, healthy, and durable.
The Building Science Education Roadmap, developed by DOE and leaders of the building science community, outlines the following goals:
More consistent education for design and installation professionals in the building industry
Increased interest and enrollment in building energy efficiency and building science job opportunities
Decreased energy use in residential and commercial buildings through improved building science education and awareness.  
DOE has established three strategies to address these gaps:
Race to Zero Student Design Competition: This annual competition helps to provide the next generation of architects, engineers, construction managers, and entrepreneurs with the skills and experience to begin careers in clean energy and generate creative solutions to real-world problems.
Building Science Education Solution Center (BSESC): Currently in beta form, the BSESC provides professors, trainers, and students with accurate, easy-to-access training materials for a full range of building-related professions. These materials are based on the collaborative efforts of DOE and its stakeholders to develop a framework for organizing core building science principles with key job classifications. The details of this framework, as well as quick checklists for each career path, are available in the Guidelines for Building Science Education.  
Building Science to Sales Tool: DOE has worked extensively with housing industry representatives and building science experts to compile a new building science glossary that translates technical jargon into an improved consumer experience. Users can explore sales themes related to high performance homes and create customized sales worksheets for their company or project. The Sales Tool is available on the Building America Solution Center.
Other Resources
Visit the websites below to find information about building high performance homes.