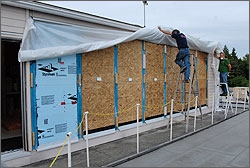 The U.S. Department of Energy's (DOE) Building America program recognizes that the education of future design/construction industry professionals in solid building science principles is critical to widespread development of high performance homes that are energy efficient, healthy, and durable.
In November 2012, DOE met with leaders in the building science community to develop a strategic Building Science Education Roadmap that will chart a path for training skilled professionals who apply proven innovations and recognize the value of high performance homes. The roadmap aims to:
Increase awareness of high performance home benefits
Build a solid infrastructure for delivering building science education
Conduct the DOE Zero Energy Ready Home Student Design Competition that complements DOE's Solar Decathlon building competition and emphasizes practical, high performance homes that can be implemented by the home building industry.
Race to Zero Student Design Competition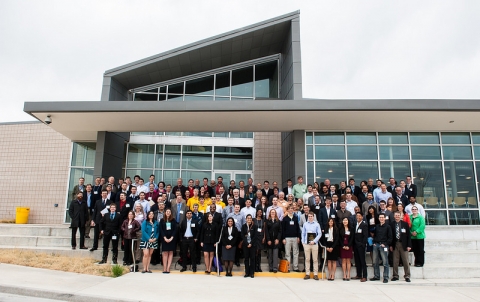 In April 2014, twenty-eight teams from U.S. and Canadian universities competed in the inaugural Race to Zero Student Design Competition. Teams presented their zero energy ready home designs to panels of industry experts, who evaluated teams on their design and construction packages, project plans, and energy-saving strategies. View the 2014 results. The 2015 Race to Zero Student Design Competition will be held at the National Renewable Energy Laboratory on April 18-20, 2015. Registration is now closed.
Below you will find information about and links to resources and university-level curricula based on the latest advances in building science.
Resources
Visit the websites below to find information about building high performance homes.
Building America Solution Center — Expert information on hundreds of high-performance design and construction topics, including air sealing and insulation, HVAC components, windows, indoor air quality, and much more.
Building America Publications Library — A database of Building America publications from 1995 to present.
National Association of Home Builders ToolBase — Resource for technical information on building products, materials, new technologies, business management, and housing systems.
DOE's Residential Building Energy Codes — Resource for tools to facilitate energy code compliance, development, adoption, implementation, and enforcement.
Whole Building Design Guide — Building-related guidance, criteria and technology from a whole buildings perspective from the National Institute of Building Sciences.
University Curricula
Below you will find examples of building science or building physics curricula for universities and 2-year colleges. Curricula include specific building science and building performance courses, and standard courses incorporating advances in building science and quality management.
University of Waterloo
The Building Engineering Group is a multidisciplinary research team that undertakes research, development, and demonstration for the building industry. The curricula adapt advances in building science particularly from the research of Building Science Corporation and other Building America teams. View a listing of current and past courses.
Cornell University
The Atkinson Center for a Sustainable Future offers over 200 courses in the Cornell Sustainability Curricula, many of which focus on building science. The Collaborative Sustainable Building Practice course was adapted from the Model "Building Science 101" Course Modules (and resources developed by the U.S. Department of Energy and the Association of Public and Land-grant Universities (formerly the National Association of State Universities and Land-Grant Colleges).
Purdue University
The National Association of Home Builders Green Building Educator's Toolkit includes an appendix highlighting the Purdue University Curricula. The Toolkit, developed under a grant from the National Housing Endowment, is based on input from 14 universities, and includes links to "green" curriculum from several schools of construction management.
Related Links
The organizations below address university-level education that supports the design/construction industry.